Never mind the spandex, here come Gary Reed and Guy Davis with the collected edition of their Baker Street mysteries - a little bit Conan Doyle, a little bit Sid Vicious. It's pretty, and it's far from vacant.
02 April 2004
---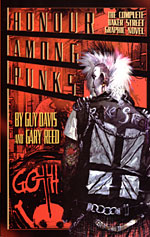 Writers: Gary Reed and Guy Davis
Artist: Guy Davis
Price: $19.95
Publisher: iBooks
ISBN: 0-7434-5904-0
Sherlock Holmes.
As a punk.
Got your attention?
In the introduction to iBooks' HONOUR AMONG PUNKS: THE COMPLETE BAKER STREET GRAPHIC NOVEL, co-creator and co-writer Gary Reed (also the former publisher of Caliber Press), explains in detail how he and artist/co-creator Guy Davis developed the alternate London that forms the backdrop of their crime drama - a world where the Victorian age is still going on, and history has taken several detours from what we know. This is not really necessary information.
All you need to know is, it's Sherlock Holmes. As a punk.
HONOUR AMONG PUNKS collects the two BAKER STREET storylines, originally published in the early 1990s. It's a chaotic, moody, often absorbing thriller that offers not only one of the few true comic mysteries out there, but also a look into the evolving artwork of Guy Davis, one of the best artists in comics.
The first storyline, 'Honour Among Punks', introduces our trio of protagonists: Sue Prendergast, a naïve American who moves to London to study medicine; Sharon Ford, the punk Sue winds up rooming with, and a master of deduction; and Sam, another punk, more short-tempered than Sharon, who may or may not be Sharon's girlfriend, and who definitely doesn't trust Sue.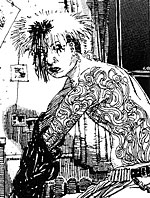 Sue soon finds herself drawn into Sharon's world, which involves both the local punk gangs and a mysterious connection to the police of Scotland Yard. Some punks who frequent a club called the Baskervilles may be involved in an art theft. Punks are turning up dead from what look like drug overdoses, but that are anything but. Gang leader Boxe is out for revenge, and another gang leader, Noir, may also be involved. And as Sue delves deeper into the mystery and Sharon's own mysterious past, she's going to find out that there are things more dangerous than punks...
'Children of the Night', the second storyline, takes place a year later, with Sue more firmly entrenched in Sharon's world, and places the focus on Sam and her relationship with Sharon. Sam's violent nature comes more to the forefront, as Sue discovers a shocking secret about her that changes her (and our) perception of her. An onslaught of 'ripper' murders provides a new mystery, but the detectives find they may not want to know the solution. And Sharon is forced to confront an ugly part of herself, one that may cost her dearly...
The plots of the mysteries in HONOUR AMONG PUNKS are occasionally tricky to follow (it's sometimes necessary to double back and reread earlier parts to keep all the characters straight), but it's never a dull read. A major reason for this is the dynamic artwork of Guy Davis, who's long been one of the most underrated presences in comics.
His work is consistent and often dynamic, but it's almost impossible to pin him down to any one type of storytelling, given how he rapidly ping-pongs from short-term project to short-term project for both major and smaller companies. His output includes two NEVERMEN limited series at Dark Horse, THE MARQUIS at Oni, DEADLINE and FANTASTIC FOUR: UNSTABLE MOLECULES at Marvel and BATMAN: NEVERMORE at DC - and that's just the last couple of years.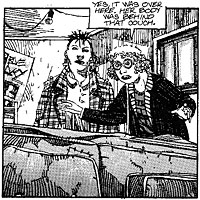 BAKER STREET represents some of Davis's earliest work, and it's fascinating to watch his style evolve. The first issue is a little too cartoony and reminiscent of the Pander Brothers, but by the second, he's already showing improvement in an evocative flashback sequence.
His work truly shines in the designs and in the punk club sequences (Davis admits in the intro that he was deeply involved in the punk movement of the 1980s), which cackle with a sense of energy and menace that don't come across as well in the other scenes. The work improves exponentially in 'Children of the Night', which has a much more assured sense of design and visual storytelling (the main characters' looks are all updated to reflect this). The pacing is better, the London setting is much more vivid, and the moments of violence are chillingly depicted.
The characterization is also excellent; Sue, Sam and Sharon are all strong female leads with complex personalities and histories; for the most part, the mysteries themselves are less interesting than learning about these characters and seeing them interact with one another.
'Children of the Night' ends on a fairly dark note, one that sets up several possible stories, and it's a shame the series didn't continue beyond that. However, it's fortunate that iBooks has collected the existing issues into this thick (368 pages) collection, which is a beautifully-designed volume that also includes many pages of Davis's designs and promotional pieces for the series, and two short stories from anthologies. At just under $20, it's a bargain, and a great read to boot.
Plus, Sherlock Holmes as a punk. How can you go wrong?

This article is Ideological Freeware. The author grants permission for its reproduction and redistribution by private individuals on condition that the author and source of the article are clearly shown, no charge is made, and the whole article is reproduced intact, including this notice.