Azzarello and Frusin head west for LOVELESS, indomitable ASTERIX faces invading aliens, despotic Rob Osborne comes over all retiring, and Andi Watson and Simon Gane take is to the city of lights.
24 October 2005
---
Welcome to The Forecast. Every Monday, Ninth Art's core team of comment writers, the Ninth Eight, will be your guides to the best, worst, weirdest and most noteworthy books on the shelves of your local comic shop.
BOOK OF THE WEEK: LOVELESS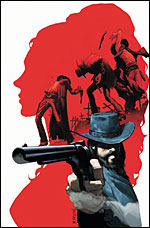 The last time anybody threatened me with violence, it was because of a Western. That Western was Marvel Comics' RAWHIDE KID, and the man who threatened me demanded that I come down (or rather, across) to Texas, in order to meet some "real cowboys." Presumably, because no cowboy anywhere anytime ever was ever gay, ever. Ever.
Ang Lee says "Hi," by the way.
Rather than countering with the pedantic truth that Rawhide Kid was a gunslinger, not a cowboy, I offered to take the man up on his threat, though I warned him that his cowboy friends would probably like me better, because I could make sandwiches and read to them from Hustler. (I'm still waiting for my ticket.)
It would be a lie to say that the Western genre has enjoyed anything more than cult status in recent years. Certainly compared to the heady days of the 1940s, where a post-Depression America was dragging itself out of the doldrums with tales of Manifest Destiny and the Big Country (years before the band was even born), the Western is a minor facet of the great comics diamond.
It survives in the form of spiritual hybrids (PREACHER) and occasional revivals (BLAZE OF GLORY). The closing weeks of 2005 see one of each coming out of the DC Comics stable. Next month sees the return of scarfaced scofflaw JONAH HEX, but ahead of that is LOVELESS, by Brian Azzarello (100 BULLETS) and HELLBLAZER's Marcelo Frusin.
LOVELESS is more of a 'true' Western than PREACHER, in that it's set in the period immediately following the American Civil War, but writer Azzarello describes it as following noir conventions, as well. That means morally compromised characters, clipped dialogue and no happy endings. The story follows Wes Cutter, former Confederate soldier, as he returns home after five years in prison. His home and land taken from him, Cutter, along with his wife Ruth, descend into a life of crime, ranging far across the West.
In an interview, Azzarello describes the heart of LOVELESS as an exploration of the forces that turn good people bad. The post-Civil War backdrop will be at the core of this: it's a sad truth that internecine tensions don't go away when the guns stop firing.
Marcelo Frusin shares a certain efficiency of line with Azzarello's other long-term art partner, 100 BULLETS' Eduardo Risso. Frusin's staging is, perhaps, a little tighter than Risso's, but both men bring with them rich, expressive character work, which is a perfect match for Azzarello's hard-boiled scripts. The colourist on LOVELESS is Trish Mulvhill: compare these finished pages to these black and white ones to see the sort of grand world-building effect she has on Frusin's art.
LOVELESS is Azzarello's second long-form comics work. Set to run for about half the length of 100 BULLETS, it will hopefully live up to the standards of that grander, though no less bleak work. [Matthew Craig]
SOMETHING FOR NOTHING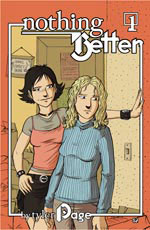 Four new first issues popped up in the independent listings this week - including the execrable LIBERALITY FOR ALL and SLG/Amaze Ink's HAUNTED MANSION. But the other two are both promising works from well-known independent creators in a similar genre.
The first is a new ongoing by STYLISH VITTLES creator Tyler Page, NOTHING BETTER. Continuing the slice-of-life theme of VITTLES, NOTHING BETTER follows the exploits of two young women going off to college, and their ongoing adventures as they 'blossom' into fully-fledged members of society. While it seems an interesting topic, the solicitation text makes a lot of noise about apparent religious overtones, and there's nothing worse than a 'my God is better than your God' rant. However, it seems to be more subtext than text in the parts I've read.
The preview pages for the first three issues are available at Tyler's web-site and show a burgeoning artistic talent. While I may not be the target audience, it seems to effortlessly find its footing within the first issue.
Johanna Draper Carlson of Comics Worth Reading says of the book, "One could almost call it an American shôjo manga, with its emphasis on girls' reactions to school life, leavened with philosophical musings". I wholeheartedly agree; rather than offer the often dull aping of manga's fascia seen in so much OEL (a horrible term), Page is inspired to evoke the ideologies of manga within his own style. The market could do with many more interesting works targeted at a young female audience such as this. [John Fellows]
PARIS MATCH
It's a slightly more mature audience that Andi Watson and Simon Gane are tapping with PARIS #1. Watson is stretching outside the remit of comics-lit and really delving into a passion here. Set in the boho Paris of the '50s, the mini-series tells the story of a penniless American art student forced to make ends meet by painting the city's rich debutantes. It's here that she meets another lost soul and a budding romance begins.
You can read a preview at Slave Labor's website. The two artists were inspired by such films as ROMAN HOLIDAY (well-to-do girl escapes dreary existence with secretive reporter), SABRINA (well-to-do bloke escapes dreary existence with working class girl), FUNNY FACE (musical where Paris beatnik posho model slums with boho types) and THE RED BALLOON (a record of a Paris now long gone).
The edgy modernity of the art juxtaposed against the romantic view of a bohemian lifestyle creates a perfect evocation for a contemporary audience, and it's obvious why Watson penned this mini-series with Gane in mind. His work is a wonderful mix of Jim Mahfood's graffiti-punk and Duncan Fegredo's iconic expressiveness. Watson's ability to handle the love-outside-the-usual shtick has been aptly demonstrated by his superhero romance series LOVE FIGHTS, and this series looks like it could provoke a little joy even in this bitter old "every day is a rainy day" critic. [John Fellows]
SOME GAUL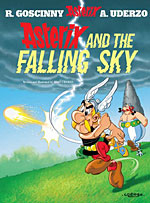 The thirty-third ASTERIX album went on sale earlier this month - in 27 countries and in 13 languages simultaneously - and it's reportedly selling around 200,000 copies a day. The launch picked up headlines all around the world, and during a visit to the series' native France last weekend I saw stacks of it piled up everywhere I went. It is perhaps the closest thing comics has to its own HARRY POTTER.
Writer René Goscinny and illustrator Albert Uderzo produced 24 volumes of ASTERIX before Goscinny's death in 1977, working at a rate of about one a year. Since that time, Uderzo has continued creating new volumes on his own, at a somewhat reduced pace, and though he's produced some fun books (GREAT DIVIDE and BLACK GOLD remain fond favourites), he's never been able to match Goscinny's wit or invention.
ASTERIX AND THE FALLING SKY (Orion Books) has its charms, but it also has some serious flaws, and it's perhaps more notable as a curiosity than as a comic. It's been called the first ASTERIX book to dabble in politics, but it does little more than dip its toe in the waters of current affairs; its real preoccupation is the three-way tug-of-war that dominates the global comics market.
The series has always been fantastical in service to its comedy, but with FALLING SKY it takes an inadvisable step into science fiction, as two alien invaders arrive at the indomitable Gaulish village. On the one hand there's 'Toon', a cute bigfoot creation who owes his provenance to Walt Disney, and has an army of caped-and-booted super-Schwarzennegers at his beck and call. On the other hand there's the big-eyed roach-like 'Nagma' and his Voltronesque spaceship and robot rats. Both have come to the little village looking for the secret weapon that has made these little French funnymen so successful.
It's not subtle, nor is it terribly fair. Uderzo is keen to pay tribute to Disney, and treats the Toon with affection, but he lazily aligns Disney with superheroes and America, both of which are subjected to gentle ridicule. His attitude towards manga - which is growing in popularity in Continental Europe just as it is everywhere else, and is perhaps threatening to eclipse the bande dessinee market - is far more uncharitable, and his depiction of the shifty, yellow-skinned Nagma is an uncomfortable addition to ASTERIX's pantheon of national stereotypes (albeit not the first).
ASTERIX can still raise a smile, and the art is still delightful, even if it has lost some of its warmth (Uderzo, approaching 80, presumably works with a studio these days). But the book's glory days lie long in the past, and perhaps Uderzo has already lost his secret weapon to some other alien power. [Andrew Wheeler]
GOLD WATCH
There used to be a TV show, when I was a kid, called LUNA. A product of the Monkee-mind of Mickey Dolenz, it followed the adventures of a young clone-girl who lived on the moon with her moon-family. The grandfather was an aged punk, all strut and confusing 20th century slang. But even in my callow youth, mere months after Punk had withered and died and turned into Kim Wilde and the Kids In America, (oo-woah-oh, I knew that this gum-chewing feeb was no true punk. But it got me thinking: Someday, that's gonna be me. Young people turn into old people. If they're lucky.
Now, you ask anyone who knows me, and they'll you that I have three obsessions: sweet, sweet booty, The Amazing Spider-Man, and the crushing inevitability of my own mortality. In that order.
It's sad and true, but I spend more time fretting about death than I do about comics. This dread stems from a number of sources - my parents have a combined age of about 140, for example - but what it's left me with is an acute sense of the Ticking Clock. I've done gigs in old folks' homes, where the pervading atmosphere is one of profound sadness. This is the end, they say. Your glorious reward for a lifetime of shit and teacakes: dying to the bleat-bleat-bleat of a life support machine. In fifty years time, it really will be elderly punks, gently moshing to Anarchy in the UK, who'll fill the nursing homes to bursting point. Punks, and, if I'm lucky, me.
Rob Osborne is the award-winning author of 1000 STEPS TO WORLD DOMINATION. This week sees the publication of his gerontological graphic novel SUNSET CITY (AiT/PlanetLar). The story follows elderly widower Frank McDonald in his quest to fill his remaining days with meaning. The routine of walking his dog and waiting for his daughter to call keeps his mind ticking over, but it's not until a particular headline in the local newspaper catches his eye that Frank sees a way to break out of the doldrums.
As you'll see in this PDF preview, SUNSET CITY is closer to GOLDEN GIRLS than COCOON. Osborne's neat, expressive storytelling promises a world of indefatigability and quiet melancholy.
There are precious few comics where the protagonist is over sixty. (Indestructible aunts and hairy Canadian shaghounds don't really count.) SUNSET CITY should prove a strong antidote to characters like that, as well as the well-worn Old Soldier cliché. It may not make the business of growing older any more palatable, but at least it'll give us something to aspire to if and when we get there. [Matthew Craig]
THE SHIPPING LIST FOR OCTOBER 26th 2005:
Shipping details come courtesy of Diamond. Visit the Diamond website for the latest information, as the list is subject to change.
DARK HORSE
AUG050025D 13TH SON WORSE THING WAITING #1 (OF 4) $2.99
AUG050026D BPRD THE BLACK FLAME #3 (OF 6) $2.99
AUG050027D REVELATIONS #3 (OF 6) $2.99
AUG050019D USAGI YOJIMBO #88 $2.99
DC COMICS
OCT050299D AUTHORITY THE MAGNIFICENT KEVIN #5 (OF 5) (MR) $2.99
AUG050189D BATMAN UNDER THE HOOD TP $9.99
AUG050244D CARTOON NETWORK BLOCK PARTY #14 $2.25
AUG050191D CATWOMAN #48 $2.50
AUG058162D CRISIS ON INFINITE EARTHS TP $29.99
AUG050210D DOOM PATROL #17 $2.50
AUG050249D ELFQUEST THE GRAND QUEST VOL 11 TP $9.99
AUG050212D FLASH #227 $2.50
AUG050219D JACK CROSS #3 $2.50
AUG050218D JLA #121 $2.50
AUG050220D JLA CLASSIFIED #13 $2.99
AUG050227D LEGION OF SUPER HEROES #11 $2.99
AUG050286D LOSERS #29 (MR) $2.99
AUG050279D LOVELESS #1 (MR) $2.99
JUL050320D QUITTER HC (MR) $19.99
AUG050269D SILENT DRAGON #4 (OF 6) $2.99
AUG050232D SOLO #7 $4.99
AUG050241D TEEN TITANS GO #24 $2.25
AUG050275D WRAITHBORN #2 (OF 6) $2.99
IMAGE
AUG051663D AGE OF BRONZE #21 $3.50
JAN051590D BURGLAR BILL #4 (OF 6) $2.95
AUG051675D FERRO CITY #3 $2.99
MAY051571 SEA OF RED #5 (MR) $2.99
AUG051694D SHADOWHAWK #6 $3.50
MARVEL
AUG051915D AMAZING FANTASY #14 $2.99
AUG051886D AMAZING SPIDER-MAN #525 $2.50
AUG051897D ARANA HEART OF THE SPIDER #10 $2.99
AUG051903D BLACK PANTHER #9 $2.99
AUG058210D BLACK PANTHER SECOND PTG VARIANT #8 $2.99
AUG051904D BLACK WIDOW 2 #2 (OF 6) $2.99
AUG051957D BOOK OF LOST SOULS #1 $2.99
JUL051884D CAPTAIN AMERICA #11 $2.99
AUG051902D DAREDEVIL #78 $2.99
AUG051917D DEFENDERS #4 (OF 5) $2.99
AUG051913D DRAX THE DESTROYER #2 (OF 4) $2.99
JUL052019D ESSENTIAL IRON FIST VOL 1 TP (
JUN041647) $16.99
AUG051983D HERCULES NEW LABORS OF HERCULES TP $13.99
AUG051918D HULK DESTRUCTION #4 (OF 4) $2.99
APR051944D KABUKI #5 (MR) $2.99
AUG051960D MARVEL ADVENTURES FLIP MAGAZINE #5 $3.99
AUG051961D MARVEL HEROES FLIP MAGAZINE #5 $3.99
JUL051922D MARVEL MASTERWORKS GOLDEN AGE HUMAN TORCH VOL 1 HC VAR ED $54.99
JUL051921D MARVEL MASTERWORKS GOLDEN AGE HUMAN TORCH VOL 1 NEW ED HC $49.99
AUG051971D MARVEL MASTERWORKS MIGHTY THOR VOL 4 HC VARIANT ED HC $54.99
AUG051970D MARVEL MASTERWORKS MIGHTY THOR VOL 4 NEW ED HC $49.99
AUG051931D MARVEL MONSTERS MONSTERS ON THE PROWL $3.99
AUG051908D NEW AVENGERS #12 $2.50
AUG051921D NEW THUNDERBOLTS #14 $2.99
AUG051942D NEW X-MEN #19 $2.99
AUG051943D NEW X-MEN ACADEMY X YEARBOOK SPECIAL $3.99
AUG051909D SENTRY #2 (OF 8) $2.99
AUG051910D SENTRY ROUGH CUT #1 $3.99
AUG051972D ULTIMATE FANTASTIC FOUR VOL 4 INHUMAN TP $12.99
AUG051891D ULTIMATE SECRET #4 (OF 4) $2.99
AUG051899D WOLVERINE #35 $2.50
AUG051975D X-MEN THE END VOL 2 HEROES AND MARTYRS TP $14.99
JUL051883D YOUNG AVENGERS #8 $2.99
OTHER PUBLISHERS
AUG052593F 24 HOUR COMICS DAY HIGHLIGHTS 2005 TP $24.95
AUG053121F ADVENT RISING ROCK THE PLANET #1 $2.25
AUG052703E ARCHIE DOUBLE DIGEST #165 $3.59
AUG052805E BART SIMPSON COMICS #26 $2.99
AUG053068F BLACKPOOL #3 $2.95
AUG052721E CANNON HAWKE #2 $2.99
JUL052960F DOROTHY VOL 1 TP (MR) $14.95
AUG052648E HAUNTED MANSION #1 $2.95
AUG052601F LIBERALITY FOR ALL #1 (OF 8) $2.99
AUG053059E LITTLE STAR #5 (OF 6) $2.99
SEP052879F NOTHING BETTER #1 (MR) $2.95
AUG052653E PARIS #1 (OF 4) $2.95
AUG053295E RUROUNI KENSHIN PROFILES $14.99
APR052787I SIX FROM SIRIUS VOL 1 HC SGN $39.99
APR052785E SIX FROM SIRIUS VOL 1 PX CVR ED TP $19.99
JUL052749F SOULSEARCHERS #74 $2.50
AUG052620F SUNSET CITY GN $9.95
AUG053230F SUPER F$$$$$S #2 (MR) $5.00
AUG053226F TOP SHELF CONVERSATIONS #2 $4.95
AUG053010F TRAILER PARK OF TERROR HALLOWEEN SP NAUCK CVR #2 (MR) $3.99
AUG053009F TRAILER PARK OF TERROR HALLOWEEN SP NELSON CVR #2 (MR) $3.99
AUG052943E UNCLE SCROOGE #347 $6.95
AUG052716E VERONICA #165 $2.25
AUG052944E WALT DISNEYS COMICS & STORIES #662 $6.95

This article is Ideological Freeware. The author grants permission for its reproduction and redistribution by private individuals on condition that the author and source of the article are clearly shown, no charge is made, and the whole article is reproduced intact, including this notice.