Grin and bear it with the URSA MINORS, discover a secret Brazil in DE:TALES, get your war on with Marvel, and crack open the SHOWCASE for SUPERMAN and JONAH HEX in our penultimate Forecast.
12 June 2006
---
Welcome to The Forecast. Every Monday, Ninth Art's hand-picked team of crack comic pundits offer a rundown of some of the best, worst and most noteworthy books on the shelves of your local comic shop.
BOOK OF THE WEEK: URSA MINORS
The name alone convinces. URSA MINORS. A carefully turned classical allusion married with insight into the modern malaise of early 21st century consumerism will convince me of most things. 'Ursa Minor' is, of course, Latin for 'Three enormo-bear-shaped-robo-suits taking whatever posterior is offered them and kicking it with a size-20-robo-foot'.
It's clearly hard-science fiction, based upon a single speculation. That is, what happens if three pop-culture-junky mates somehow got given the keys to a three high-tech enormously powered exoskeleton battle-suits that for some reason are shaped like ursine beasts and then put into confrontations with a towering pile of cultural pulp-fiction detritus? (You suspect that somewhere in the Ursa Minor headquarters there's a dartboard with words like 'Ninjas', 'Pirates' and 'Obscure Russian Poets' stuck to it, which they resort to every time they're stuck for a plot development.) Anyway - clearly, hard speculative fiction. And what does happen?
Fights.
And jokes.
It's a comic that appears to want to both kick back and kick ass, a slacker fight comic par excellence. From the minds of Paul Cote and Neil Kleid (NINETY CANDLES), and illustrated with verve and vigour by Fernando Pinto, URSA MINORS could be the missing piece in the post-STREET ANGEL, post SHARKNIFE, post-SCOTT fuckin' PILGRIM zeitgeist. [Kieron Gillen]
IN THE DETAILS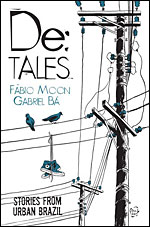 Fabio Moon and Gabriel Ba appear to be this year's Bryan Lee O'Malley - they're everywhere. And with good reason. The first time this Forecaster saw their work was in 2004's URSULA (AiT/PlanetLar), a neat little fairy tale that was sexy, quirky and sweet all at the same time. And, hoo boy, the art was beautiful. (When they work together, the brothers split the art chores between themselves.) Before URSULA, they had only been published in their native Brazil. Since URSULA they've appeared in an increasing number of US comics, from Dark Horse's AUTOBIOGRAPHIX, to Ba's upcoming work on Matt Fraction's CASANOVA.
Like URSULA, DE:TALES (Dark Horse) is another chance to check out the result of their undiluted work. It's just the twins, writing and drawing a whole bunch of short stories set in their hometown (the book is subtitled "Stories from Urban Brazil"), and sometimes featuring the brothers themselves in odd cameos (they introduce the collection, for example - a nice little touch they carried over from URSULA, along with a few characters).
Dark Horse has said that the stories in this neat little volume follow in the footsteps of the brothers' Latin American 'magical realist' heritage, which honestly doesn't do the stories, or the brothers, full justice - but it does link them with two other famous comic-creator brothers, Gilbert and Jaime Hernandez, and they measure up well in the comparison. We can only hope Moon and Ba stick around as long. [Ben Wooller]
TEN FOOT TALL AND BULLETPROOF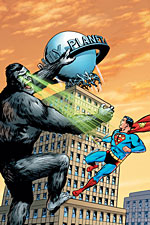 After years of steadfast cynicism, I'm slowly being won round to the notion that Superman thrives in the face of absurdity. I mean, don't get me wrong, I'm still fond of three-dimensional, well-rounded characters. But I'm sitting here with a list of Superman stories, divided by content into Deadpan and Daffy, and I can't help but notice that most of the best ones come with a thick dollop of rich, meaty Crazy.
It's a difficult thing to judge, The Crazy. Like so much in life, if you try too hard, you'll come off as desperate. You can't just throw six lap-dancing Lincolns into a story willy-nilly. Well, maybe that's a bad example. But there's a gulf of good taste between Good Silly and Bad Silly: compare THE DAY TODAY to BROKEN NEWS and you'll see what I mean.
Or you could just pick up SHOWCASE PRESENTS SUPERMAN, Volume Two of which goes on sale this week.
Seriously: I never thought I could enjoy Silver Age Comics quite so much. I mean, Lois is a ring-hungry stalker, Superman looks like he's flying backwards most of the time, and everybody speaks like they're struggling with Mogadon withdrawal. But the world around them is, appropriately, bizarre. No two days are exactly alike. On Monday, you could be fighting for the affections of a mermaid with your robot doppleganger; on Tuesday, you could be an old man in the Wild West, trying not to shoot your grandfather; on Wednesday, you could be Montgomery Clift.
Suddenly, eight hours down the rendering plant loses all its appeal.
Volume One introduced the world to the original, pre-Anorexia version of Supergirl, found Bizarro a girlfriend, and gave the Man of Steel a Freudian new superpower. Volume Two promises to ramp up the mentalism: collecting ACTION COMICS #258-275 and SUPERMAN #134-145, the book puts Superman in irons on the Bizarro Planet, finds him judging grasshopper races in the Fifth Dimension, makes him choose between his first love and his best love, and finally drops him back on Krypton for a spot of pre-Apocalyptic romance. As you can see in cover galleries here and here, many of the ideas introduced in these stories have resurfaced in the pages of Morrison and Quitely's ALL-STAR SUPERMAN. Now that's a comic that gets The Silly right, while tempering it with romance and pathos and everything a modern man like me needs.
Bryan Singer's SUPERMAN RETURNS debuts at the end of the month. Sadly, we won't be around to tell you what to think about it. But it amuses me to think of someone coming out of that romance-heavy blockbuster, picking up this tome, and asking for their ticket money back.
Superman was the first superhero, surreal and stunning. And while Singer's movie will, no doubt, stun the shit out of us, I'll always be aware, sadly, that there's a hole in the thing where a giant ape could have gone. [Matthew Craig]
WAR, HUH?
In case you missed #1 of the 300,000+ selling Marvel Mega Mini of the Millennium, CIVIL WAR, here's a quick recap; hundreds of school-children are brutally kick-sploded in the aftermath of a superhero battle, forcing the government to pass a superhero registration act. So far, so much petty bureaucracy. And if you, like me, wondered when Mark Millar got so deeply into filing, the second issue will answer your question - when filing became ULTIMATE FILING! Yes, like (non-exploded) kids in a schoolyard, the superheroes have divided on the issue and formed two factions ready for the world's most explosive game of British Bulldogs.
The secrets of CIVIL WAR #1 were widely reported in several previews for months before it was released, but the allegedly bowel-rupturing secrets of #2 have so far remained... erm, surprisingly secret. If you really want to know what's coming, you can continue reading. If you're one of those utter weirdos who likes to enjoy products and not utterly ruin your enjoyment by scanning boards for news of storylines months in advance, then skip the following paragraph.
Whilst DC's crossovers seem so plot- and character-heavy that it's almost impossible to see if there's any sort of point to them, Marvel's crossovers have been the exact opposite - all they offer is editorial mandate and a weak plot hung on top. For example, this series has a nice central core, but it's quickly been hijacked by editorial/the BendisMillar hivemind to make a series of character changes. Issue #2 sees the first big shocker with Spider-Man outted to the press as Peter Parker in an attempt to head-off public outcry. As I type these words, I can feel Ninth Eighter Matt Craig's spider-sense tingling... And not in a good way.
Still, the first issue of CIVIL WAR was well-plotted and had some of the most gorgeous artwork seen in recent years. McNiven is a definite find and is set to rightfully take his position as Marvel Artistic God for the next few years. Here's hoping he doesn't vanish up his own arse (or 'Humanoids', as it's also known) like Travis Charest. The scope of CIVIL WAR is perfect for the man for whom subtlety is only having one splash page insulting the French per issue. If the bombastic Captain America escape scene from #1 is any indicator for the rest of the series, we're at least in for some blockbusting in between our editorial wrangling. [John Fellows]
TO LIVE AND DIE IN THE SADDLE
The Western renaissance continues unabated! Because y'all demanded it! To be fair, the Western never really went away: it was annexed by the superhero, or by the superhero's awkward cousin, sci-fi. However, as we've seen in Forecasts passim, there's plenty of room on the shelves for a book with saddlebum bona fides.
Marvel Comics are about to embark on an extended re-evaluation of their Western characters, beginning with this week's TWO-GUN KID. LOVELESS, the Vertigo series by Brian Azzarello and Marcelo Fruisin, recently received the trade paperback treatment. And Palmiotti and Gray's JONAH HEX revival has been popular with fans and critics alike.
Fans will have to wait until September for the first modern JONAH HEX trade, but impatient cowpokes can read the character's original adventures today, in the form of SHOWCASE PRESENTS JONAH HEX. A phonebook-sized paperback in the same vein as the aforementioned SHOWCASE PRESENTS SUPERMAN, JONAH HEX features over 500 pages of slapped-leather action, as well as OUTLAW, a rollicking tale of father/son conflict, and the surprising truth behind Billy the Kid.
The book features stories published between 1970 and 1976, which places it at the end of the Silver Age proper - Gwen Stacy died in 1973 - and just ahead of Watergate, the end of the Vietnam War, the DEATH WISH movies, and all they inspired (e.g.: THE PUNISHER). JONAH HEX's post-Civil War milieu is one of mistrust and paranoia. Hex is a disgraced Confederate soldier, despised by both sides - and, in the book's one running subplot, hunted for it. The moral ambiguity, casual racism and layered characterisation will remind readers of the best of Garth Ennis' work, while the black and white printing is well-suited to the smart-pulp feel of the story.
The lead artist on JONAH HEX is Tony De Zuñiga, and he's superb, crafting a weary, grimy world for the characters to live and die in. De Zuñiga is an inky, masculine artist in the Kubert/Colan/Garcia-Lopez vein: he draws the gunfights we all wished we could have when we were kids.
The stories, written mainly by Michael Fleisher and John Albano, clip along at pace, with few quiet moments. The dialogue is stunning on a number of levels, written in a phonetic dialect that would make Chris Claremont blanch. A melange of Kiwi, Afrikaans and Geordie, it's more amusing than aggravating, and a product of a more innocent time.
It bodes well for the future of the medium that a book such as JONAH HEX - black and white art, old-fashioned style, niche subject matter - can find a place in the modern landscape. Even with the mighty DC machine behind it, it's an achievement. I look forward to more of the same, in the months and years to come. [Matthew Craig]
THE SHIPPING LIST FOR JUNE 14th 2006:
Shipping details come courtesy of Diamond. Visit the Diamond website for the latest information, as the list is subject to change.
DARK HORSE
APR060053D BLADE OF THE IMMORTAL #114 (MR) $2.99
MAR060018V CRYING FREEMAN VOL 2 TP (MR) $14.95
MAR060028V REIKO THE ZOMBIE SHOP VOL 3 TP $12.95
DC COMICS
APR060285D 100 BULLETS #73 (MR) $2.99
APR060202D 52 WEEK #6 $2.50
APR060284D AMERICAN VIRGIN #4 (MR) $2.99
APR060180D BATMAN LEGENDS OF THE DARK KNIGHT #207 $2.99
APR060247D BATMAN STRIKES #22 $2.25
JUL050202 BATMAN WAR GAMES ACT THREE TP $14.99
MAR060378D CANT GET NO SC (MR) $19.99
APR060251D CARTOON NETWORK ACTION PACK #2 $2.25
APR060212D CHECKMATE #3 $2.99
APR060246D ELRIC MAKING OF A SORCERER #3 (OF 4) (RES) $5.99
MAR060367D EX MACHINA SPECIAL #2 (OF 2) (MR) $2.99
APR060213D FIRESTORM THE NUCLEAR MAN #26 $2.99
MAY050230D FLASH THE SECRET OF BARRY ALLEN TP $19.99
APR060214D GREEN ARROW #63 $2.99
APR060216D GREEN LANTERN CORPS #1 $2.99
MAR060326D JLA CLASSIFIED #22 $2.99
MAR060324D JLA CLASSIFIED NEW MAPS OF HELL TP $12.99
APR060259D MEGATOKYO VOL 4 $9.99
MAR060360D MONSTER COLLECTION VOL 6 (MR) $9.99
MAR060359D MOON CHILD VOL 3 $9.99
APR060177D NIGHTWING #121 $2.99
APR060277D RED SONJA CLAW DEVILS HANDS #4 (OF 4) $2.99
MAR060299D SHOWCASE PRESENTS SUPERMAN VOL 2 TP $16.99
APR060189D SUPERMAN #653 $2.99
FEB060251 SUPERMAN VERSUS LEX LUTHOR TP $19.99
IMAGE
FEB045201 MAGE VOL 1 THE HERO DISCOVERED TP $29.99
APR061817D MARC SILVESTRI CYBERFORCE #0 LITHO $19.99
APR061818D MARC SILVESTRI CYBERFORCE #0 LITHO SGN $29.99
MARVEL
APR062012D ANNIHILATION SUPER SKRULL #3 (OF 4) $2.99
APR062060D CABLE DEADPOOL #29 $2.99
APR062017D CIVIL WAR #2 (OF 7) $2.99
APR068105J CIVIL WAR 1 FOR 75 TURNER SKETCH VARIANT #2 (OF 7) PI
APR062018D CIVIL WAR TURNER VARIANT #2 (OF 7) $2.99
APR062061D EXILES #82 $2.99
MAR062103D FOUR #30 $2.99
APR062095D INFINITY GAUNTLET TP NEW PTG $24.99
APR062032D MARVEL ADVENTURES FANTASTIC FOUR #13 $2.99
APR062034D MARVEL ADVENTURES FLIP MAGAZINE #13 $4.99
APR062035D MARVEL HEROES FLIP MAGAZINE #13 $4.99
APR062043D MARVEL ROMANCE REDUX LOVE IS A FOUR LETTER WORD $2.99
APR062047D MARVEL WESTERNS TWO GUN KID $3.99
APR062049D MS MARVEL #4 $2.99
APR062004D SENSATIONAL SPIDER-MAN #27 $2.99
APR062007D SPIDER-GIRL #99 $2.99
APR062057D SQUADRON SUPREME #4 $2.99
APR062058D THUNDERBOLTS #103 $2.99
APR062001D ULTIMATE X-MEN #71 $2.99
APR062070D WOLVERINE ORIGINS #3 $2.99
OTHER PUBLISHERS
MAR063447F 110 PER CENT GN $12.95
NOV052979F ANGEL DIARY VOL 2 GN $10.95
APR063215 ANGEL SCRIPTBOOK #4 $3.99
APR062843 ANNE FREAKS MANGA VOL 2 TP (MR) $9.99
MAR062954E ARCHIE & FRIENDS #101 $2.25
MAR062955E ARCHIE DIGEST #226 $2.49
MAR062958E BETTY #156 $2.25
MAR062960E BETTY & VERONICA DOUBLE DIGEST #143 $3.69
APR063169 DONALD DUCK AND FRIENDS #341 $2.95
FEB062990 ELSINORE VOL 1 PSYCHO SANCTII TP $14.95
APR062879 GARGOYLES #1 $3.50
APR063090 GI JOE AMERICAS ELITE #12 $2.95
APR063313 GIRLY VOL 1 TP $11.95
MAR063154E HOW TO SELF PUBLISH COMICS #4 (OF 4) $4.95
MAR063107F MARSHAL #2 (OF 4) $2.95
APR063170 MICKEY MOUSE AND FRIENDS #290 $2.95
FEB062991 NIGHTWOLF #0 $0.99
MAR063110F RAYMOND E FEIST MAGICIAN APPRENTICE #2 CVR A $2.95
MAR063111F RAYMOND E FEIST MAGICIAN APPRENTICE #2 CVR B $5.95
APR063412 SUPER FUCKERS #3 (MR) $5.00
APR063411 TALES OF WOODMAN PETE GN $7.00
APR062884 URSA MINORS #1 $2.95
MAR062971E VERONICA #171 $2.25

This article is Ideological Freeware. The author grants permission for its reproduction and redistribution by private individuals on condition that the author and source of the article are clearly shown, no charge is made, and the whole article is reproduced intact, including this notice.