Comics are a fickle business, where management failings are better remembered than artistic triumphs, one book can make an up-and-comer arrive, and pioneers don't often get their due. Ninth Art's ABC reaches Infantino, Irving and Isabella.
28 November 2005
---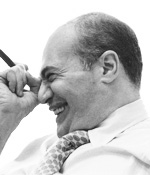 I is for Infantino, Carmine
b: 1925, New York City
1942: JACK FROST; 1956: FLASH; 1964: BATMAN
If ever there was a case for not putting creative talent in positions where they'd require a sound business head, it's surely exemplified in the career of Carmine Infantino, whose excellent work for DC in the 1950s and 1960s was overshadowed in his later career by the disastrous financial position he helped steer the company into in the 1970s.
Carmine Infantino is one of those artists whose work is far less well known among the younger sections of today's comics fanbase than it should be. After all, he was the artist on what is arguably the first Silver Age comic of them all - SHOWCASE issue #4, introducing the Barry Allen version of the Flash. His work for DC from that period remains vibrant and exciting, encompassing heroes such as Batman and Adam Strange, and his eye for cover composition was peerless at the time. He was eventually promoted within the company to the heady position of art director.
It has to be said, unfortunately, that the artistic side of matters was doubtless where Infantino's remarkable skills were focussed - when it came to 'direction', and the day-to-day administration of the company, he proved less successful.
After being promoted sideways to editor, then to publisher in a later corporate reshuffle, Infantino set about assembling the best talent pool he could. He recruited Neal Adams and Jim Aparo - two men who would go on to produce some of the best regarded Batman comics ever to see print - but was unable to maintain morale. As Infantino was drawn ever more into the nitty-gritty of running DC, Adams' workload as DC's primary cover artist (a position that had previously been shared with Infantino himself) proved too much for him to happily bear. Famously able to rub people up the wrong way, Infantino presided over DC's loss of Adams, TEEN TITANS legend Nick Cardy, and Jack Kirby, the last of these having been lured to DC by Infantino in the first place.
Infantino became increasingly conservative in his decisions, and not without understandable reason. The Silver Age sales boom was on the wane, and his days in office were numbered as soon as he announced that all DC comics were to rise to 25 cents from 15, a move that was followed by Marvel - until the following month, when Marvel dropped its prices down to 20 cents.
Infantino's last book on staff for DC was the Stan Lee-written SUPERMAN v SPIDER-MAN. He was let go shortly afterward. Infantino returned to freelance pencilling, but his years away from the drawing board had taken their toll, and his work was a shadow of what it had once been.
Infantino was handed a poison chalice, captaining the ship as it went down, and it's a sorry tale of how the industry and the artform of comics are never as compatible as they might seem.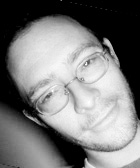 I is for Irving, Frazer
b: 1972, Ilford, UK
2001: NECRONAUTS; 2005: KLARION, THE WITCH BOY
2000AD has, for the last umpteen years, been fertile ground for US comics companies to plunder when looking for next big things. The 'British invasion' of the late 1980s saw Grant Morrison land the ARKHAM ASYLUM gig and Neil Gaiman take on BLACK ORCHID, and only a few years before that, the author of HALO JONES and the artist of ROGUE TROOPER had gotten together to rework the Charlton comics heroes - and ended up creating comics' own CITIZEN KANE.
Frazer Irving is one of the newer kids on the block as far as the transfer from 'Tooth' to the Big Two is concerned. He first made his name on the LEAGUE OF EXTRAORDINARY GENTLEMEN-styled NECRONAUTS, an atmospheric saga teaming Harry Houdini, HP Lovecraft, Sir Arthur Conan Doyle and Charles Fort against the dark forces of the Illuminati and their undead hordes. This was met with acclaim from many quarters, and his Bernie Wrightson-styled art was singled out by reviewers for providing exactly the atmospheric edge that the story required.
Since then, Irving has continued to work for 2000AD and the JUDGE DREDD MEGAZINE, co-creating the offbeat detective Jack Point with Simon Spurrier - Point being surely the only trenchcoated gumshoe to also sport a clown nose and long, floppy shoes. He's also drawn Durham Red, Sinister Dexter and Judge Death, and was the artist of 'There's Something About Mary', the tie-in comic produced for SHAUN OF THE DEAD.
Frazer's big US break arrived just this year, as he provided the art for KLARION, THE WITCH BOY, one of Grant Morrison's SEVEN SOLDIERS miniseries. His Klarion - a mixture of Eddie Munster and Emily the Strange - made for a doom-laden story, and it's only likely to be rivalled among SEVEN SOLDIERS artowrk by Doug Mahnke's FRANKENSTEIN.
Irving has followed up KLARION by turning to Marvel to produce a miniseries featuring one of the most unlikely characters you could expect him to work on, judging by his CV. Yep, the man who brought us Lovecraftian Forteana, witch boys and noir clowns is picking up his pencils to lay down some lines on IRON MAN. Perhaps surprisingly, given the necessarily clinical nature of the character, the preview art looks similarly lush to Irving's work on KLARION. If he proves he can turn his hand to disparate genres with relative ease, then 2000AD may have given the US market another British star.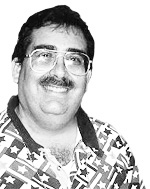 I is for Isabella, Tony
b: 1951; Cleveland, Ohio
1974: GHOST RIDER; 1977: BLACK LIGHTNING
Who wants to win a prize? Okay, then answer the following question. What do you get if you mix Warren Ellis and Steve Gerber? Those of you who said, 'A man who writes satirical comics about a duck who smokes and drinks and uses a high-tech mobile phone', go and sit at the back of the class.
Those of you who said, 'A man who gets irked at the handling of his characters by other writers and maintains a long-running presence on the Internet', bravo! You win ten points, which may be redeemed against a variety of Chuck Austen comics. Well, I never said it was a good prize, did I?
The shortest answer to the above question, of course, is 'Tony Isabella'. Isabella created Black Lightning, the first black DC character to have his own comic, and has been writing Tony's Online Tips since two seasons before Noah built his ark.
Isabella got his break working on horror books at Marvel in the early 1970s, charting the unlives of It, The Living Colossus and Dracula, among others. His first major title assignment was on the stunt-biker-from-Hell incarnation of GHOST RIDER, and his run on ol' fire-bonce's book has recently been Essentialised. He later moved on to write HERO FOR HIRE, CAPTAIN AMERICA, THE CHAMPIONS and others. It was in 1977, though, that he began work on the book for which he is still best remembered - BLACK LIGHTNING.
Isabella had been given a story outline for a character called the Black Bomber, which was by all accounts thoroughly offensive and unworkable on every level. Isabella decided wisely to scrap the whole premise and start over, and Black Lightning was born. Isabella wrote the initial run of issues of BLACK LIGHTNING, eventually handing over the reins to Denny O'Neil. In 1995, years after the book had been cancelled and Black Lightning relegated to guest star spots in other comics, Isabella was again approached to write a BLACK LIGHTNING ongoing.
Oddly for someone who is so strongly linked with a particular character, Isabella only wrote 18 issues of the series, both volumes included. The second time around, Isabella was removed from the title even before the first issue came out. Over the years, Isabella has been an outspoken critic of how Black Lightning has been handled by others, with only Mike W Barr escaping unscathed. Isabella feels strongly that DC's first solo-starring black hero should be a morally upright character, and he was indeed created as such.
Judd Winick's use of the character in THE OUTSIDERS and GREEN ARROW - in which he murdered a CEO in retaliation for the murder of his own niece - has been a particular bone of contention. Whether Isabella's complaints have merit is debatable, but if you subscribe to the theory that the creator of a character is best placed to comment on the character's motivations, they're certainly understandable.
Isabella has recently had to suspend Tony's Online Tips, the column he has been publishing at World Famous Comics since 2001 (itself an offshoot of a column he has been writing for Comic Buyers' Guide for much longer), for health reasons. Whether you agree with him or not, his comments and opinions frequently spark debate, and hopefully he'll be back with more sooner rather than later.

This article is Ideological Freeware. The author grants permission for its reproduction and redistribution by private individuals on condition that the author and source of the article are clearly shown, no charge is made, and the whole article is reproduced intact, including this notice.