It's already springtime in Previewsland, and the season brings fresh blooms from Maurice Vellekoop, Megan Kelso and Scott Morse, plus brand new SKY APE, the collected LA PERDIDA, and Kurt Busiek's AQUAMAN.
02 January 2006
---
Happy New Year! Who'd have thought it, 2006 and we're all still here and in one piece. Only a little under seven years until the apocalypse, of course (that's December 22nd, 2012) but still plenty of time to kick back, relax, and read comics.
Now, I've been asked to keep my voice down because my illustrious editors at Ninth Art celebrated a little hard to bring in the new year; something about finding a secret stash of books from CrossGen that were used to... Well, I don't think we really need to get into that, now do we?
Anyway, March 2006. By this point in time everyone will have thrown out their New Year's Resolutions, which means my entire readership will have caved under the pressure and run out to find copies of all the alternative-cover editions for 'The Other' storyline in SPIDER-MAN. Shame on you, shame on you all. This is where pre-ordering can actually be your friend, though. By ordering your books now for March 2006, you can still have some of your resolutions in full effect by the time these books show up. You see? It's not too late, you can still keep that promise to only buy quality books alive past mid-January!
NOBLE BOY by Scott Morse
JAN06 2793, p209, $12.95
A full color, painted book by Scott Morse is always reason to celebrate; his artwork is like nothing else in comics, with a unique look and feel to it that always grabs my attention. I must admit that I know absolutely nothing about the subject of the book, Maurice Noble, the animator who worked on films like HOW THE GRINCH STOLE CHRISTMAS and SNOW WHITE AND THE SEVEN DWARFS. What I do know, though, is that if Morse thinks his life is interesting enough to pay tribute to, my curiosity is definitely piqued.
SKY APE: KING OF GIRLS by Amara, McCarney, Russo, and Jenkins
JAN06 2801, p215, $4.95
If you're a fan of SKY APE, I don't even need to explain to you why a new SKY APE one-shot is required reading. If you're not... well, it's sort of like if Hanna-Barbera and Vertigo teamed up for a project, with the end result being a non-sequitur romp across the city starring an ape with a jetpack spouting some of the craziest dialogue this side of haha-land. It's really funny, it's fairly indescribable, and I'm glad it's back.
HELLBOY VOL 6: STRANGE PLACES TPB by Mike Mignola
JAN06 0079, p31, $17.95
This is the sort of book that seems at first like a no-brainer, but I want to make sure to spotlight it for two different reasons. First, it's the last major HELLBOY comic work that's both written and drawn by Mike Mignola for the foreseeable future (Richard Corben is drawing the HELLBOY: MAKOMA mini-series, while Duncan Fegredo has the art role for the next mini-series), and second, Dark Horse is proving more and more that when a movie is about to be made of one of their comic properties their best reaction is to have the books go out of print. You know, little books like HELLBOY, SIN CITY, and 300. Don't worry, though, I think they've still got a metric ton of BARB WIRE collections gathering dust somewhere. Anyway, HELLBOY 2 starts production in 2006 so I'd grab this book while you can.
HAIBANE RENMEI VOL 1
JAN06 0083, p35, $14.95
I can't help but note that the solicitation for HAIBANE RENMEI mentions Yoshitoshi Abe, the creator of the anime that this manga was based on, but there's no mention whatsoever of who actually wrote or drew the print version. It's probably too much to hope that it's by Abe, whose drawings in the SERIAL EXPERIMENTS LAIN art book leave me drooling for hours on end.
From what I understand about HAIBANE RENMEI, it's sort of like Abe's series NIEA_7, which was lushly animated, had all these huge concepts about immigrants, racism, and aliens... and no real plot whatsoever. Don't get me wrong, I think NIEA_7 was nothing short of fantastic, but I remember getting to the end of the series and being both impressed and dismayed at the storytelling structure being used.
Anyway, if Abe did draw this version of HAIBANE RENMEI, make sure to grab this for the art alone. Heck, there's a good chance that one of Abe's studio mates (or a close approximation thereof) drew it, and that's probably fantastic too.
AQUAMAN: SWORD OF ATLANTIS #40 by Kurt Busiek and Butch Guice
JAN06 0302, p78, $2.99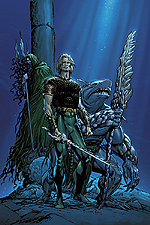 While most of DC's 'One Year Later' relaunches have me distinctly unimpressed, this is the one notable exception. Aquaman's the sort of character that the public doesn't really identify with or care about, so despite being a recognisable name you can do just about anything you want to the character without it being a big deal - including replace him.
Kurt Busiek's writing on CONAN for Dark Horse has shown that he really understands adventure comics, and that looks to be exactly what we're getting with AQUAMAN: SWORD OF ATLANTIS, complete with a new title character, swords, and lots of classically styled fun ahead. Butch Guice's advance art on the title looks nothing short of fantastic as well, and to be honest the only real big question here is why with such a complete and utter change on the book that they didn't just start a new #1. (Not making the same move post-ZERO HOUR on LEGION OF SUPER-HEROES was always a big regret at DC in the years to come.) Of all the times to start the numbering over, this is one where it would actually make sense. Regardless, I am definitely buying this book come March.
BATMAN: SECRETS #1 by Sam Kieth
JAN06 0275, p61, $2.99
BATMAN #651 by James Robinson, Don Kramer, and Keith Champagne
JAN06 0276, p65, $2.50
DETECTIVE COMICS #817 by James Robinson, Leonard Kirk, and Andy Clarke
JAN06 0277, p65, $2.50
Let me try and understand my simultaneous excitement and misgivings about these three books, and why I can't really give a firm decision one way or the other about buying them. On the bright side, a new Sam Kieth mini-series in general is promising, and the three pages of art on display here are breathtakingly gorgeous. On the other hand, it's yet another story about Batman versus the Joker, and at this point he's such an overused character that I honestly find it hard to really care. Unless DC's going to do something huge and permanent to the character (and who are we kidding, thanks to the movie franchise that will never happen) it's hard to muster up too much excitement over what looks to be a same-old-story.
Meanwhile, James Robinson's writing a six-part story that'll run for three months in the two BATMAN books, and Robinson writing comics again is something that makes me happy... or rather, it would be if it wasn't tied into the whole 'One Year Later' gimmick. Is this really a Robinson-written story, or is it something that's been pre-plotted by editorial as part of a new direction (yet again) for the books, something that he's really just loosely scripting over?
I'm really torn on both of these offerings; the creative talent is good, but the end result... I don't know if I can put my support behind them.
A NUT AT THE OPERA by Maurice Vellekoop
JAN06 3012, p264, $19.95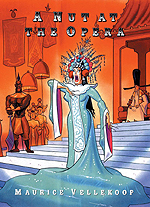 One of the early creators contributing to Drawn & Quarterly's titular anthology was the amazingly talented Maurice Vellekoop. From spot illustrations and gay-themed updates of old romance comics to serious drama and social commentary, Vellekoop was that rare sort of creator who scored with every single contribution, and the coffee table collection of his work VELLEVISION is a gift I've given to people for years.
It's been over half a decade since I've seen a new comic by Vellekoop, and trust me, people, I'm jumping up and down and squealing with delight. (Not a pretty picture. Aren't you glad that Things To Come isn't offered as a video broadcast?) The idea of Vellekoop skewering opera with his sharp wit is a great one; he's got a biting sense of humour, and if this isn't one of the funniest books published in 2006 then I will run a public apology in a couple of months time in this column, that's how convinced I am that this will be great.
I'm already earmarking copies for future Christmas gifts!
ALEX by Mark Kalenisko
JAN06 3030, p268, $19.95
When I first saw the listing for ALEX in the new Previews, my jaw dropped with surprise. Could this be a new graphic novel from Mark Kalenisko, whose MAIL ORDER BRIDE knocked my socks off several years ago? Well, as it turns out... no. It's actually a collection of a six-issue mini-series that he created over ten years ago.
Once I got over that disappointment, though, I reminded myself that MAIL ORDER BRIDE was pretty fantastic, and while ALEX may not be brand-new, it'll still be new to me. It's about a man who discovers the path out of depression through art (I can't help but wonder if it's a little autobiographical), something that, in a comic medium, could be really powerful. Fingers crossed.
SQUIRREL MOTHER by Megan Kelso
JAN06 3043, p270, $16.95
I love, love, love Megan Kelso's comics. She's got a beautiful, simple line in her comics, one that looks elegant when drawing everything from little artichoke people to monsters. Elegant is an adjective that can also be applied to her writing, with most of her stories that I've read having to do with personal events in her life, sometimes fictionalised in the telling.
This collection of her short stories is a mixture of those semi-autobiographical pieces and some retellings of American history. For most creators I'd be a little dubious if one of the highlights of their short story collection included a trilogy of stories about Alexander Hamilton, but with Kelso I'm more than willing to give her the benefit of the doubt. This is going to be a must-buy book, mark my words.
BANANA SUNDAY by Root Nibot and Colleen Coover
JAN06 3184, p299, $11.95
If you missed out on the BANANA SUNDAY mini-series from Oni Press in 2005, then you didn't see one of the cutest comics being published. We've all seen "new girl tries to fit into her school" stories in the past, but let's be honest now; how many of those stories had a talking orang-utan, chimpanzee, and gorilla?
Colleen Coover's art is so charming it would make Statler and Waldorf from THE MUPPET SHOW crack a smile, and Root Nibot's script is a perfect match for Coover's adorable illustrations. This is just goofy fun and if it were published by Viz then it would've already sold a million copies in the bookstore market, possibly more. Come on, people, don't you need a little fun in your heart in 2006? Look no further than BANANA SUNDAY.
LA PERDIDA by Jessica Abel
JAN06 3196, p302, $19.95
Jessica Abel's LA PERDIDA mini-series from Fantagraphics was jaw-dropping entrancing to me when I first read it. I hadn't expected to find myself so completely understanding and empathetic to the story of an American expatriate living in Mexico City with a combination of spoiled rich Americans and Mexican natives.
Abel lived in Mexico City for several years herself, and she was really able to bring together the full experience of living there to her readers; you feel fully immersed in this different world, but without ever being preached to or lectured by Abel. Those who have read LA PERDIDA will easily understand why Pantheon Books wanted to publish the collected edition; those who haven't are in for a thoroughly pleasant surprise.
BOOGIEPOP AND OTHERS NOVEL by Kohei Kadano
JAN06 3220, p305, $9.99
BOOGIEPOP DOESN'T LAUGH VOL 1 by Kohei Kadano and Kouji Ogata
JAN06 3221, p305, $10.99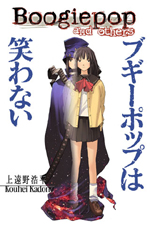 When I first saw a handful of episodes of a Japanese animated series called BOOGIEPOP PHANTOM, I was entranced. What seemed at first like a standard spooky series quickly turned into something more, as each episode added a new piece to a puzzle, letting you see events from different perspectives and making the meaning of previous episodes clearer. Imagine my surprise to discover that BOOGIEPOP PHANTOM was actually a sequel to a novel called BOOGIEPOP AND OTHERS, which was then adapted into a two-volume manga series called BOOGIEPOP DOESN'T LAUGH, as well as a sequel manga called BOOGIEPOP DUAL.
Now Seven Seas is bringing the books and manga into English, and... well, their description is actually so good that it's this month's winner of the "Greg just uses their text because they described it better than he could" award:
"There is an urban legend that children tell one another about a shinigami that can release people from the pain they may be suffering. This 'Angel of Death' has a name - Boogiepop. And the legends are true. Boogiepop is real.

"When a rash of disappearances involving female students breaks out at Shinyo Academy, the police and faculty assume they just have a bunch of runaways on their hands. Yet, Nagi Kirima knows better. Something mysterious and foul is afoot. Is it Boogiepop or something more sinister...?

"Told in a non-linear fashion that asks the reader to piece together the sequence of events to solve the mysteries alongside the characters, Kouhei Kadono's first Boogiepop novel took First Place in Media Works' Dengeki Game Novel Contest in 1997 and ignited the Japanese 'light novel' trend."

I'm ordering copies for myself, because if they're half as good as the animation (and I just got the other episodes on DVD, so I'm going to have a fantastic viewing marathon shortly) then I expect to be fully blown away. Great, great stuff.
SHOUT OUT LOUD! VOL 1 by Satosumi Takaguchi
JAN06 3292, p336, $9.99
With so many different manga series being translated into English these days, it's hard to have new books stand out amid the avalanche of titles cascading onto shelves. I'm not sure what grabbed my attention first about SHOUT OUT LOUD; maybe it's the understated art style that reminds me of something that might be published by Drawn & Quarterly or Oni Press, maybe it's the idea of the protagonist's father being a voice actor that has to pick up jobs on gay radio dramas to make a living, maybe it's just the nice full page solicitation for the title. With pregnant girlfriends and ice hockey added into the mix (that's a combination of plot points I never thought I'd have to type in before), SHOUT OUT LOUD sounds just different enough that I'd like to see more. Congratulations, SHOUT OUT LOUD, you've managed to get me to buy you instead of any one of 78 different new series also debuting this month.

This article is Ideological Freeware. The author grants permission for its reproduction and redistribution by private individuals on condition that the author and source of the article are clearly shown, no charge is made, and the whole article is reproduced intact, including this notice.