Memoirs are in fashion with Brian Fies' MOM'S CANCER, Alison Bechdel's FUN HOME and Miriam Katin's WE ARE ON OUR OWN, plus there's science fiction from Neal Shaffer, and science action from Matt Fraction.
27 February 2006
---
No clever introduction this month, I'm afraid. I went out drinking and dancing last night and honestly, if it weren't for the sheer wealth of good books coming out in May 2006 I'd be in bed with my head under the pillow. But for you, dear readers, I'm trudging on. Barely. I do hope you appreciate my sacrifice.
MOM'S CANCER HC by Brian Fies
MAR06 2860, p204, $12.95
For those of you who read Fies's MOM'S CANCER when it was a web comic, you'll be unsurprised as to why I'm recommending this book. Fies's biographical story of his mother and family's battle with cancer is unflinchingly real and direct with its emotions. At the same time, it never gets saccharine or melodramatic, as I'd initially feared; Fies's comic hits all the right notes and none of the wrong ones. Winner of the Eisner Award for Best Digital Comic, it's great to see MOM'S CANCER continue to get the attention that it deserves.
WONDERLAND #1 by Tommy Kovac and Sonny Liew
MAR06 2914, p218, $3.50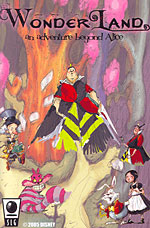 What is it with a sudden spate of ALICE IN WONDERLAND-connected comics? Image is publishing HATTER M, Antarctic has an adaptation of the story itself, and now Kovac and Liew are creating WONDERLAND, which takes place after Alice has gone back home and left all of the crazy creatures to their own devices.
I shouldn't really complain, though; Kovac's writing on books like STITCH and SKELLEBUNNIES was great, deranged fun, and Liew's art on MALINKY ROBOT and MY FAITH IN FRANKIE was outstanding. They've both got the exact right sensibilities to pull this off (and in full color to boot, yay!) and I think this is going to be one of the books everyone's talking about this year.
JAPANESE DRAWING ROOM GN by Sakura Mizuki
MAR06 3078, p243, $9.99
I've never heard of this book until right now, but it sounds intriguing, the true story of a Victorian couple traveling through Meiji-era Japan. It sounds like a lot of it might involve their encounters with different aspects of culture from that time period, which could either be enthralling or immensely boring, depending on how well the story flows. The cover sure looks nice, though, and based on that it's going to be one beautiful book if nothing else.
XIII VOL 1 TP by J Van Hamme and W Vance
MAR06 3115, p256, $14.95
For everyone who decided to pass on the English-language edition of XIII from Alias Comics due to it being edited for content (why someone wants to print a story meant for older readers and then take out random pieces here and there is beyond me), good news! The Dabel Brothers Productions collection of XIII, the story of a man who wakes up one day to find he has immense fighting skills, a tattoo saying 'XIII', and no memories, will, according to all reports, be unedited. As someone who's deliberately held back on checking out XIII (which is apparently huge in Europe), this is a great turn of events.
PATH OF THE ASSASSIN VOL 1 TP by Kazuo Koike and Goseki Kojima
MAR06 0017, p22, $9.95
How many Koike and Kojima collaborations are there, anyway? I'm not complaining, really; I loved LONE WOLF AND CUB and SAMURAI EXECUTIONER, but if it wasn't for the fact that Kojima passed away several years ago I'd seriously start to wonder if they were banging out new series even as Dark Horse flies over planeloads of money for them.
At any rate, a 15-volume series about a ninja master and a young shogun lord sounds interesting. It's also worth noting that while the previous series by the duo were published 'flipped' (or left-to-right) in English, starting with PATH OF THE ASSASSIN, Dark Horse is bowing to the inevitable and publishing it as originally printed.
DE:TALES TP by Fabio Moon and Gabriel Ba
MAR06 0038, p36, $14.95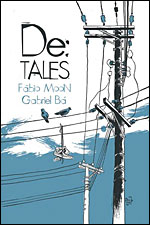 Fabio Moon and Gabriel Ba are probably best known in English language comics for their work on books in the past like URSULA and ROLAND: DAYS OF WRATH. I'd known thanks to ROLAND that they were both accomplished artists, but URSULA proved that they could write as well.
DE:TALES is a collection of their short stories, promising stories about the urban life of Sao Paulo and in the Latin American tradition of magical realism, and I have high hopes that they can handle both. If nothing else, the cover image of powerlines with birds and a pair of sneakers perched on them is intriguing enough that I'm going to take a look.
CRISIS AFTERMATH: THE SPECTRE #1 by Will Pfeifer and Cliff Chiang
MAR06 0303, p73, $2.99
I really can't decide what to think about this. On the one hand, I'm less than crazy about the idea of taking existing characters and turning them into the Spectre, although I suppose almost anything is better than linking him with Hal Jordan.
On the other hand, it's written by Will Pfeifer, one of the most underrated writers working in comics right now, who really deserves lots more attention and acclaim. The art's by Cliff Chiang, whose creations are nothing short of gorgeous, and a perfect match for a series like this. And last but not least, I have to give some credit for the fact that if you were going to unite the Spectre with an existing character, GOTHAM CENTRAL's Crispus Allen is one of the better ideas out there. Against my better judgment, I can't help but think that I'll be buying this. Oh, my conflicted heart!
52 #1-4 by Geoff Johns, Grant Morrison, Greg Rucka, Mark Waid, Keith Giffen, Joe Bennett, Ruy Jose, Jack Jadson, Dan Jurgens, and Art Thibert
MAR06 0309-0312, p77, $2.50
Oh, come on, like you didn't think I'd have something to say about this?
I think the idea's actually a pretty clever one. No, really. If you're going to do a 'One Year Later' shift to your entire line of books, why not have a weekly 52-part series that fills in the gaps? The pedigree of the writers and artists lined up sounds pretty good, so the big question is going to actually be: who's going to buy it?
Honestly, I haven't a clue. Does DC Comics have their own 'zombies' that buy everything related to the DC Universe? Will people try to just buy individual story arcs? Perhaps big fans of Booster Gold are clamoring for 52? A weekly series is a big commitment, and I can't wait to watch people track the sales of the series to see how it moves, especially when you consider that collections of 52 are a long time off according to DC Comics (to encourage people to buy the individual issues).
In many ways, 52 is a year-long sales experiment, and while it may turn out disastrously, I can't help but salute DC for giving it a shot.
SECRET SIX #1 by Gail Simone, Brad Walker, and Jimmy Palmiotti
MAR06 0334, p86, $2.99
This sounds sort of like a cross between Simone's VILLAINS UNITED and John Ostrander and Kim Yale's SUICIDE SQUAD, the latter of which was one of my favorite ongoing series of the '90s. Villains going on missions that 'tread the line between good and evil' could fall on its face spectacularly, but I'm hesitantly excited about SECRET SIX, especially since it's (for now) a mini-series instead of an ongoing series that could lose steam quickly.
ABC A-Z: SMAX AND FIRST AMERICAN by Peter Hogan, Steve Moore, Zander Cannon, and Kyle Baker
MAR06 0362, p103, $3.99
All right, I'll bite. Is anyone actually buying these ABC A-Z books? 32 pages for $3.99 that sound suspiciously like an iteration of the Marvel Universe Handbooks is just not floating my boat, and I can't help but wonder if I'm the only one. So, come on. Who's buying these? Anyone? Anyone at all?
CAN'T GET NO GN by Rick Veitch
MAR06 0378, p110, $19.99
I remember when CAN'T GET NO was first announced some years ago. Then again, it's 350 pages long so that certainly explains why Veitch has taken a bit of time to work on it. It sounds particularly odd; the story of a man who wakes up covered in permanent tattoo from head to toe after his business comes to an end with the destruction of the World Trade Center in New York, who then goes on a journey looking for salvation. I trust Veitch, though; when he writes and draws a series it's always memorable, and by all reports CAN'T GET NO has been a real labour of love. It's tricky subject material, but I've got faith in Veitch handling it appropriately.
BASILISK VOL 1 GN by Masaki Segawa
MAR06 3130, p262, $13.95
When BASILISK was first announced by Del Rey as an upcoming series, the squealing heard across the internet was so loud it blew out my speakers. By all reports this is a fantastic series about two warring ninja clans with super powers trying to destroy each other. It's worth noting that this is the first 'mature readers' title from Del Rey (not including the decidedly immature NEGIMA, with its regular appearance of girls' breasts), and it says a lot that they're using BASILISK to launch their slightly-larger-trim-size line of mature readers books.
BUDDHA VOL 1 GN by Osamu Tezuka
MAR06 3136, p262, $14.95
I'm not entirely sure how the softcover editions of BUDDHA have moved from Vertical to Del Rey, but so long as these books stay in print that's all that really matters. (Now if the eighth and final hardcover will just show up I'll be very happy indeed!) I know you're all sick and tired of me preaching the wonders of Tezuka's biography of the Buddha, so I'll be brief: it's fantastic. Buy it, buy it, buy it.
ANNE FRANK by Etsuo Suzuki and Yoko Miyawaki
MAR06 3165, p275, $9.95
You know, I'd be OK with a republishing of a manga edition of THE DIARY OF ANNE FRANK. That makes sense. But one where it's narrated by Astro Boy?
My head hurts, you know. It's at times like this that I seriously wonder if publishers put these sort of solicitations out just to mess with me.
WE ARE ON OUR OWN HC by Miriam Katin
MAR06 3184, p281, $19.95
I love, nay, adore Miriam Katin's comics. Her stories in DRAWN & QUARTERLY and the MONKEYSUIT anthologies are amazing tales of her life growing up in Budapest and having to flee the Nazis.
This is her first full-length graphic novel, and it's going to blow people's minds with its sheer goodness. Katin's art is a beautiful cross of pencils and inks, and her use of colour is subtle and enticing. Katin's comics always have a soft, enticing style of writing that draws the reader in so effortlessly that you won't even notice the passage of time around you until you're done. I applaud Drawn and Quarterly for publishing WE ARE ON OUR OWN; this is going to be a book that'll be talked about for years to come. She's just that good.
CASTLE WAITING HC by Linda Medley
MAR06 3205, p284, $29.95
Oh look; it must be time for another edition of CASTLE WAITING. In the past it's gone from a Xeric Grant-funded graphic novel, to a self-published series, to a series published by Jeff Smith's Cartoon Books, to a self-published series, to an announced-but-never-published series from Dark Horse. With all that in mind, it says a lot that everyone wants to publish CASTLE WAITING, because it really is that charmingly good. This is just a collection, with a new concluding chapter about the castle that serves as a refuge for fantastical people and creatures all across the land, but I'm happy just to see the book getting back into people's hands. Medley's series was an absolute charmer, and while it might be too much to hope for new books down the line, this is better than nothing.
FUN HOME: A FAMILY TRAGICOMIC GN by Alison Bechdel
MAR06 3248, p292. $19.95
It always frustrates me that more people don't read Bechdel's soap-opera-comic-strip DYKES TO WATCH OUT FOR. I think they're scared off by the name and thinking that if they aren't a lesbian it won't interest them, when in reality Bechdel's stories are the sort that really appeal to everyone, with their universal themes of love, work, life, and all that stuff that happens in-between.
With that in mind, I'm hoping that Bechdel's first graphic novel brings her a whole new set of readers. By all reports Bechdel's memoirs are of the jaw-dropping sort, where you just keep thinking, 'Oh good god, this all really happened?' Knowing Bechdel, her wry sense of humour is also going to be present in the telling of her story, and make this yet another 'Must Read' book.
FIVE FISTS OF SCIENCE GN by Matt Fraction and Steven Sanders
MAR06 1824, p138, $12.99
At the San Diego Comic-Con last year, Fraction was walking around with copies of the completed art for FIVE FISTS OF SCIENCE. The pages I saw looked stunning, throwing Mark Twain, Nikola Tesla, Thomas Edison, and JP Morgan into a war of science versus the black arts.
Fraction's one of those writers who has pulled himself up by his bootstraps to prove himself as a real talent to be taken seriously, and Sanders' art here is going to make him a superstar as well. I'm delighted to see FIVE FISTS OF SCIENCE resolicited, and even more excited about the prospect of reading the whole book at last.
THE LAST CHRISTMAS #1 by Gerry Duggan, Brian Posehn, Rick Remender, and Hilary Barta
MAR06 1825, p140, $2.99
Santa Claus in a post-apocalyptic world. Need I say more? (If I did, I'd mention that it's written by two of the comedians from MR SHOW and THE COMEDIANS OF COMEDY. And perhaps add in that there's a scene with Santa giving a little boy a baseball bat with which to slay zombies.) Big thumbs up, folks.
SENSATIONAL SPIDER-MAN #26 by Roberto Aguirre-Sacasa and Clayton Crain
MAR06 2069, pM20, $2.99
Honestly, Clayton Crain's cover with the new 'Iron Spider' costume for Spider-Man is one of the ugliest things I've seen all day. Mike Wierengo's rendition for FRIENDLY NEIGHBORHOOD SPIDER-MAN looks quite nice, and Ron Garney does an OK job for AMAZING SPIDER-MAN. This? It's repulsive. This is so not the way to sell the new costume, people.
X-MEN FAIRY TALES #1 by CB Cebulski and Sana Takeda
MAR06 2129, p75, $2.99
Surely there has got to be a better way to tap the manga-reading audience than telling Japanese-themed fairly tales using X-Men character analogues? This is one of those series where I honestly can't see anyone buying it. Well, other than Paul O'Brien to write up for a review at The X-Axis, but even then... surely there must be better ways for Marvel to spend their money? If nothing else, Takeda's art deserves something better than this.
BORROWED TIME VOL 1 by Neal Shaffer and Joe Infurnari
MAR06 3338, p311, $6.95
Two things I love from Oni Press are Neal Shaffer's comics (LAST EXIT BEFORE TOLL, ONE PLUS ONE, THE AWAKENING) and their digest format books (NORTHWEST PASSAGE, LOVE AS A FOREIGN LANGUAGE). The marriage of the two? I'm in heaven.
BORROWED TIME was one of the books I was the most interested in hearing about back at San Diego, the story of a journalist who ventures into the Bermuda Triangle and returns 'out of synch' with the rest of the world. I'm not 100% sure what that entails, but knowing Shaffer half of the fun will be discovering the details. Shaffer's stories are always quiet, methodical, intriguing tales that quietly draw the reader in, and BORROWED TIME sounds like the sort of series that plays to his strengths. I'm definitely buying this.
MAIL ORDER NINJA VOL 1 by Joshua Elder and Erich Owen
MAR06 3398, p329, $5.99
I may have to get this book based solely on the title.
110 PER CENT GN by Tony Consiglio
MAR06 3447, p344, $12.95
I think it was at SPX 2004 that Tony Consiglio had a mini-comic preview of 100 PER CENT on his table. I do know for certain that whatever year it was, soon after I raced back over and breathlessly asked when we'd see the full book. The pages I saw were hysterical, showing us three women desperate to get closer to their most beloved boy band (and if it meant getting their fast food wrappers, by god that's what they'd do).
It's a perfect send-up of not just boy bands but our obsession with celebrities in general, and people who've read Consiglio's DOUBLE CROSS comics will know that he's one of the funniest creators working in the medium. Mark my words, this is one of next year's Eisner nominees in the humour category. Just wait and see.
NANA VOL 3 by Ai Yazawa
MAR06 3507, p356, $8.99
You are all buying NANA, right? You know, Yazawa's amazing 'odd couple' story of rocker Nana Osaki and dreamer Nana Komatsu as they live together and try to survive in the big city of Tokyo? That series with the fantastic art, enthralling characters, and plot twists that range from funny to deadly serious, right? Ok, just checking. I'd hate to have to be disappointed in you.
VAGABOND VOL 21 by Takehiko Inoue
MAR06 3511, p358, $9.95
It's back! It's back! It's back! After a lengthy wait, Inoue's continued with his jaw-droppingly gorgeous series VAGABOND, which tells the story of the greatest swordsman of all time Miyamato Musashi. There's such elegance in Inoue's writing and art that you feel at times like you're watching one of the most beautiful movies ever created as it unfolds across the page. Inoue's one of the few artists whose work I would truly define as graceful; it just feels effortless with every single panel. Highly, highly recommended, and a great way to close out this month's column.

This article is Ideological Freeware. The author grants permission for its reproduction and redistribution by private individuals on condition that the author and source of the article are clearly shown, no charge is made, and the whole article is reproduced intact, including this notice.