Simon Bisley takes on PARADISE, Jamie Rich tackles LOVE, Gilbert Hernandez looks at SLOTH, and Neil Gaiman does big crazy Kirby supermen! Plus, the essential anthologies for 2006; OUT OF PICTURE and FLIGHT volume three.
03 April 2006
---
Astute readers might notice that this column is a week late. Well, there's a simple answer; last weekend was my birthday, which meant that I spent my free time running a half-marathon, entertaining guests, and going to a Rob Zombie concert. Now I think a lot of people may disagree, but for me it was a pretty near perfect birthday weekend. So, there you go. A week late, no apologies from my end. I had a great time and really, didn't my temporary absence make you miss me more? (Perhaps you shouldn't answer that.) So, onwards and upwards!
(It's not too late, incidentally, to buy me a present. Hey, I had to try.)
SIMON BISLEY'S PARADISE LOST by Simon Bisley
APR06 3428, p354, $24.95
One of the most disturbing books I picked up in San Diego last summer was SIMON BISLEY'S ILLUSTRATIONS FROM THE BIBLE. It's best summed up as religion through the eyes of hair metal rock bands. (One friend made the comment upon seeing the book, 'I think I just got a paper cut, because Jesus is ripped!' Personally, I was more fixated on Eve's mullet. And who knew there was hair gel thousands of years ago?) Now it seems Bisley's done an adaptation of Milton's PARADISE LOST, and I for one cannot wait to see the sheer wrongness that's going to result. So very, very wrong indeed.
STRUGGLERS by Tim Fish
APR06 3310, p320, $10.00
People who've read Tim Fish's CAVALCADE OF BOYS collections, or his work as editor of YOUNG BOTTOMS IN LOVE... rejoice! There's a new Tim Fish collection out, taking his story 'Meet Me In Saint Louie' from the online comics anthology Modern Tales Longplay and adding additional pages of story and art for its big print debut. If you've never read any of Fish's comics, the best immediate pitch I can give you is, it's like Walter Simonson writing and drawing really great slice-of-life romance comics. I've already made room for STRUGGLERS (the story of three recent college graduates trying to figure out what to do with their lives and where they fit in) on my bookshelf.
OUT OF PICTURE GN by various
APR06 3309, p320, $25.00
Have you ever been flipping through a catalog or magazine and there was an advertisement that stopped you dead in your tracks for over a minute? That's what just happened with me and OUT OF PICTURE. It's an anthology of eleven short stories from the creators at Blue Sky Studios, which worked on the movies ICE AGE and ROBOTS. The art in the advertisement, though... Wow, wow, wow. There's a website for the book with some more teaser art at www.outofpicture.com and I think you're going to agree that these are some amazingly talented artists. This is going to be the book that everyone is talking about for the rest of 2006 as, one by one, they discover its gorgeousness.
WET MOON VOL 2: UNSEEN FEET by Ross Campbell
APR06 3295, p318, $14.95
Trust me when I say that I'm bouncing up and down in my chair right now as I write this. (So please, excuse any typos that will result from said bouncing.) The first volume of WET MOON was breathtakingly wonderful, a quiet, sleepy, Southern story about Cleo and her friends moving through life and art school. It wasn't at all what I was expecting, and I was entranced in a matter of seconds. Ross Campbell is the real deal, and in about five years we'll all be sitting around arguing over who read Campbell's books first and at what point in his career did we know he was a budding superstar.
(It was the advance photocopies of TOO MUCH HOPELESS SAVAGES #1 for me, incidentally. I'm laying my claim quite early for when I first became a Campbell groupie.)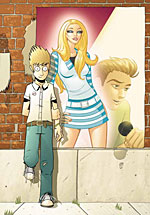 LOVE THE WAY YOU LOVE #1 by Jamie S Rich and Marc Ellerby
APR06 3293, p318, $5.95
An ongoing romance comic is something that makes me really happy; knowing it's written by hopeless romantic Jamie S Rich makes me know that this is going to be good to boot. Rich's collaboration with Marc Ellerby in the recent PUT THE BOOK BACK ON THE SHELF anthology from Image Comics shows that Ellerby's on the same page as Rich, too. Between this and LOVE AS A FOREIGN LANGUAGE, Oni's got a lot of my love back in return.
TALES OF LEONARDO: BLIND SIGHT #1 by Jim Lawson
APR06 3261, p310, $3.25
All right, I'm going to perhaps sound like a jerk here, but it's something that I think needs to be said. Peter Laird, I'm happy that you like to continue to publish NINJA TURTLES titles at Mirage Studios, and if you want to spend the rest of your life doing that then power to you. But for the rest of the world that just doesn't get that excited about other creators working on the series, could you please, please, please reprint the original comics? That first collection which had the initial eleven issues? Out of print for years. I'd cheerfully buy it if you reissued it. I think a lot of people would. Heck, reprint the entire original 50-issue run and I promise that I'll also snag the collections of issues that Rick Veitch, Mark Martin, and Michael Zulli each worked on.
But come on, I'm begging you. Please bring those original TMNT comics back into print. Not only are they an important historical point in comics (the start of the 'black and white explosion') but they were really good to boot. Please?
ETERNALS #1 by Neil Gaiman and John Romita Jr
APR06 2022, pM33, $3.99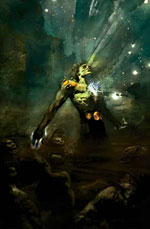 Out of all of the properties that Neil Gaiman would choose for his second Marvel project, I'm impressed that he went with the mostly-forgotten Jack Kirby creation of the Eternals. Stories about an unaging, superpowered offshoot of humanity is just the sort of thing that Gaiman's good at, and really, who's done anything interesting with the Eternals in the past decade or two?
I must say, though, Marvel seems pretty convinced that Gaiman is artist-proof, because after the amazing covers that Scott McKowen produced for 1602, the cover that Rick Berry has produced for ETERNALS #1 is one of the most hideous things I've ever seen. Maybe the actual cover will have a little more detail, but this is just a big mess.
CASANOVA #1 by Matt Fraction and Gabriel Ba
APR06 1763, p136, $1.99
Even before reading anything about the comic itself, just knowing that CASANOVA #1 is offering up 28 pages of story and art for $1.99 is a big thumbs up. That's a great deal no matter how you look at it. Written by Matt Fraction (MANTOOTH, 30 DAYS OF NIGHT: BLOODSUCKER TALES, LAST OF THE INDEPENDENTS) and drawn by Gabriel Ba (URSULA, ROLAND: DAYS OF WRATH) and telling the stories of a secret agent and international man of leisure? I'm so there. It's nice to see someone else taking the same basic idea of format that Warren Ellis and Ben Templesmith started with FELL and running with it. A bunch of fun, low-priced comics is a huge boon in my book.
THE CRYPTICS #1 by Steve Niles and Ben Roman
APR06 1764, p138, $3.50
I never understood the appeal of Muppet Babies; yes, it's young, baby versions of Jim Henson's most beloved creations, but why does that make them so irresistible? I am starting to vaguely understand the appeal of Steve Niles and Ben Roman's THE CRYPTICS, though. It's the stories of some of horror's most famous monsters all living in the suburbs. The pages in Previews are just cracking me up, both in terms of adorable art (they're cute and evil, which to me is really darn funny) and the dialogue coming out of their mouths courtesy of Niles. I'm still not going to give those horrendous Muppet Babies another chance, though.
CLAN OF THE NAKAGAMIS by Homerun Ken
APR06 3109, p282, $12.95
One thing I've always loved about Japan's manga scene is that it's not afraid to mix genres at the drop of a hat. So here we've got CLAN OF THE NAKAGAMIS, which cheerfully straddles the line between a student/teacher gay romance, and a dark fantasy mystery about an evil ageless clan and their ruthless plans. Gotta love it.
WONDER WOMAN #1 by Allan Heinberg, Terry Dodson, and Rachel Dodson
APR06 0244, p91, $2.99
So here's the deal. I've really liked Allan Heinberg's writing on YOUNG AVENGERS. Terry and Rachel Dodson's art has always been quite pleasing to my eyes. And when it comes to DC's other two 'trinity' characters of Batman and Superman, I'm really quite happy with what we're getting in their 'One Year Later' relaunches of the books. Based on all of that evidence, I simply have to give WONDER WOMAN a try. Oh well, I didn't need those three bucks anyway.
SLOTH HC by Gilbert Hernandez
APR06 0283, p115, $19.99
I think a grand total of twenty people (including myself) actually read it, but I loved Gilbert Hernandez's GRIP: THE SECRET WORLD OF MEN mini-series for Vertigo. It was really strange and bizarre and out there, and in the case of GRIP all of those adjectives are intended as complements. At a casual glance, Hernandez's new graphic novel SLOTH seems to be a bit more grounded, about a high schooler who wills himself into a coma and emerges a year later trapped at a sloth-like speed. With promises of a haunted lemon orchard, goatmen, and bizarre nightmares, though, there's definitely going to be some trademark Hernandez strangeness going on.
I suspect that like GRIP, SLOTH will vanish into the realm of forgotten projects before too long, but I really do urge people to give this a try. I'm just going on a gut instinct here, but I think this is going to be one of the big graphic novels of the year. Here's hoping someone else actually reads it.
SUDDEN GRAVITY by Greg Ruth
APR06 0026, p30, $10.95
Greg Ruth's art is gorgeous, a visual combination of pencils and oils that really works for me. He's been producing the art for the 'flashback' issues of CONAN, and his art for FREAKS OF THE HEARTLAND had just the right combination of menace and uneasiness that Steve Niles's script demanded. What I hadn't realized was that Ruth writes as well.
SUDDEN GRAVITY sounds a little like Lars von Trier's THE KINGDOM mini-series (which was remade into the lackluster KINGDOM HOSPITAL in the United States), with a haunted hospital where the spirits and forces within are beginning to awaken. Really, if it's like THE KINGDOM in terms of atmosphere, that's going to be a winning situation for us as readers. And no matter what, it's going to look gorgeous. I'll definitely plan on taking a look at this graphic novel.
THE ARTIST WITHIN by Greg Preston
APR06 0046, p35, $39.95
I don't know if anyone else remembers Patti Perret's THE FACES OF FANTASY from a decade ago, a book of beautiful photographic portraits taken of numerous big names in the fantasy book world. That appears to be what Greg Preston's doing with THE ARTIST WITHIN, capturing the visuals of numerous artistic giants in the comic industry within their own studios. What's impressive to me is the list of creators represented; it's got a nice mix of founding fathers (Jack Kirby, Moebius, Joe Simon, Sergio Aragones), modern classics (Walter and Louise Simonson, Frank Miller), and relatively new creators (Craig Thompson). And that's just based on the handful of names I've been able to gather so far; there's 100 portraits in all, and snapshots on the cover of the book are quite impressive.
Now obviously this isn't a book for everyone, but I can't help but think that it's going to be of interest to people intrigued by the history of comics, and by those who want to know more about the people who create the books they love. Big props to Dark Horse for publishing something as special and important as THE ARTIST WITHIN.
MUSEUM OF TERROR VOL 1 by Junji Ito
APR06 0056, p41, $13.95
Ok, this is interesting. When ComicsOne first began publishing back in 2001, one of their first titles was two volumes of TOMIE, Junji Ito's story of a high school girl who keeps coming back from the dead and whose presence is a harbinger of death to all of those around her. I remember hearing at the time that in Japan that these had been printed as part of a larger series of an Ito library showcasing the works of one of the true masters of Japanese horror.
Now Dark Horse seems to have the rights to TOMIE and some of Ito's other works, which are being repackaged under the umbrella title of MUSEUM OF TERROR. Considering how much of a hit Ito's UZUMAKI became in English, I was always sad to see that TOMIE never got the attention it deserved; it seems that just like its titular character, though, TOMIE can never stay dead for too long.
FLIGHT VOL 3 edited by Kazu Kibuishi
APR06 3014, p234, $24.95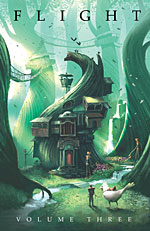 Unless you're living under a rock, you probably know all about the FLIGHT anthology and the first two volumes from Image Comics, chock full of stories from some of the hottest up and coming cartoonists and animators in the business. What you might have not remembered is that starting with volume three, the series is published by Ballantine Books. So absolutely do not miss this book. The first two FLIGHT books were jaw-droppingly gorgeous, and I will be positively shocked if this isn't more of the same extremely high quality material. Buy this book, buy this book, buy this book.
SOULFIRE: CHAOS REIGN #0 by JT Krul, Marcus To, Jason Gorder, and Don Ho
APR06 2958, p234, $2.50
According to the big two-page ad in Previews, '10,000 years in the making... an all new SOULFIRE series'. Is it really wise to advertise that your artist is that slow? I mean, this makes Travis Charest seem like the Flash in comparison.
CONTINUITY by Jason McNamara and Tony Talbert
APR06 2846, p218, $12.95
If you took Ursula K Le Guin's THE LATHE OF HEAVEN and Jonathan Lethem's 'Five Fucks' and merged them into a graphic novel, you'd end up with something sort of like CONTINUITY. What's pretty cool is that AiT/PlanetLar's offering up the entire book as a PDF on its website
Consider this the ultimate version of 'try before you buy.' Check it out, decide if you think it's worth $12.95 of your money, and make your choices accordingly.

This article is Ideological Freeware. The author grants permission for its reproduction and redistribution by private individuals on condition that the author and source of the article are clearly shown, no charge is made, and the whole article is reproduced intact, including this notice.