Ninth Art's rundown of the industry's most notable creators continues with a look at famed Marvel writer Roy Thomas, legendary minimalist Alex Toth, and superstar artist Michael Turner.
01 May 2006
---
T is for Thomas, Roy
B: 1940, Missouri
1965: MILLIE THE MODEL; 1966: SGT FURY; 1981: WONDER WOMAN
"Rascally" Roy Thomas, as he was playfully dubbed during the heyday of the Marvel Bullpen, is regarded by many as being second only to Stan Lee in terms of writers who have given the most to the Marvel Universe, and with good reason.
Stan Lee was a very busy man. Very busy indeed. So when the MU became just a little too unwieldy for him to be able to cope with writing the pulse-pounding purple prose for which he had become so famous, he had to bring in someone else to help shoulder some of that weight. Having dipped his toes into the water with a couple of Patsy Walker and Millie the Model stories, avowed fan Roy Thomas was given a try-out on the "proper" Marvel characters with an IRON MAN story. When that worked out well, the sky was the limit.
In short order, Thomas took on the writing reins of SGT FURY AND HIS HOWLING COMMANDOES, X-MEN, and AVENGERS, and although his run on the latter included such all-time classics of Earth's Mightiest Heroes as the Kree-Skrull War and the introduction of the Vision, it wasn't until he started his run on Robert E Howard's most famous son that he really began to stake out his place in comics history.
CONAN THE BARBARIAN was something of a sleeper hit for Marvel. Over the years, Thomas would produce his own weight in Conan strips, but it's his work with Barry Windsor-Smith that's (rightfully) best remembered. It's not hard to see why, as this partnership turned the original over-written tales of Hyborean adventure into compulsively readable, staggeringly well-drawn pulp action with occasional aspirations to something more highbrow.
After falling foul of the new broom approach of Jim Shooter, Thomas defected to the Distinguished Competition, where he took on mainstays such as WONDER WOMAN and the JSA, whom he wrote in ALL-STAR SQUADRON. This dalliance with DC only lasted four years, however, and he returned to Marvel to chronicle THOR, DOCTOR STRANGE and others. As the years went on, though, his involvement with the Big Two fizzled out, and he began to concentrate on other things, such as relaunching his seminal fanzine ALTER EGO as a professional magazine, and collaborating with Gil Kane on an adaptation of Wagner's Ring Cycle. He's recently returned to the sword-and-sorcery world of CONAN spin-offs, having been responsible for a one-shot RED SONJA book for Dynamite. What could better illustrate that in comics as in live music, there's always an audience for the greatest hits.
T is for Toth, Alex
B: 1928, New York City
1947: GREEN LANTERN; 1966: EERIE; 1966: SPACE GHOST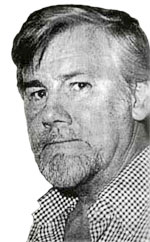 If you've ever found yourself laughing out loud at the deeply surreal goings-on in Adult Swim's Sealab 2021 or the anarchic humour of Space Ghost: Coast To Coast, you may not have realised that you were indebted to a 78-year-old comics artist, although you most assuredly were. 2021 is, as any fule kno, a reworking of 1970s show Sealab 2020, just as Coast To Coast employs characters from the 1960s incarnation of the Space Ghost show, and the designs for each were provided by hugely influential artist Alex Toth. If that were all he had accomplished in his career, he would be right to be proud; as it is, his portfolio is far more wide-ranging.
Toth was raised in New York, an only child, and used to sit next to the radio and draw pictures of the characters he would hear in the adventure serials that were so prevalent at the time. Encouragement from teachers led to him signing up, against his family's wishes, for the High School of Industrial Art. Not long out of school, Toth was snapped up by DC, and put to work on the Golden Age GREEN LANTERN book, working from scripts by John Broome. Toth's bold and striking use of shadow and light became one of his signature traits, and his influence can be seen in the work of artists such as Frank Miller and David Mazzuchelli. Similarly, his storytelling skills rank up there with the best, and his sometimes unconventional panel layouts clearly had an effect on Neal Adams.
Toth went on to work on such long-running DC titles as THE BRAVE AND THE BOLD and HOUSE OF MYSTERY, and was much in demand as an artist who could adapt his style to whatever he was asked to illustrate. His heart seems not to have been with the superhero genre, however, preferring to work on such heroes of derring-do as he had grown up listening to on the radio, such as Zorro, whom he drew for Dell. He also used his excellent grasp of use of shadow to good effect on the stories he drew for Warren Comics' EERIE, for whom he also wrote.
It was in the mid-1960s that he went to work for Hanna-Barbera, and although many artists (Alex Ross notable among them) have since said that Toth's Space Ghost design is one which they look to as an example of how to put together a superhero, Toth himself has less than fond memories of the committee-style creative process which led to its inception.
Toth is still drawing today, and there is talk that a new book of his sketches, letters, photos and other material, entitled DEAR JOHN, THE ALEX TOTH DOODLE BOOK, will shortly be published by Jeff Parker. Although he has spent a large part of the last few months in hospital, Toth is expected to make a full recovery and, as of two weeks ago, was due to be discharged very soon. He's a great artist with a varied body of work to his name, and anyone who's a fan of the many comics creators he's influenced would do well to seek out as much of his as possible.
T is for Turner, Michael
B: 1971; Crossville, Tennessee
1995: WITCHBLADE; 1998: FATHOM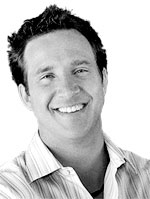 There's been an odd trend recently in the world of super-hero action figures. Every other line of toys appears to be modelled on one artist or another's particular interpretation of the characters. Alex Ross's Justice League; Humberto Ramos's Spider-Man; Ed McGuinnes's Superman/Batman. The most extreme examples are the IDENTITY CRISIS figures, particularly Black Canary. She has a belly that's longer than her thigh, arms like a scarecrow and a face that looks like she's being goosed by the Gentleman Ghost. Not to worry, though, because that's entirely in keeping with the fact that the figures are being modelled on the artwork of Michael Turner.
Turner is an odd example of an Image-studio-birthed talent who actually managed to make it as big as the Image founders themselves (bigger, in fact, than some of them). He became known for his art on Top Cow's WITCHBLADE series, depicting the life ups-and-downs of a cop whose accessories coat her in a kind of cobwebby dental floss, although only over the naughty lady parts. The ability to draw ridiculously proportioned mostly naked women, surprisingly, made Turner exceptionally popular, and in 1997 he branched out from the character he'd made his name with in order to focus on his creator-owned series FATHOM, which features? erm? an attractive, semi-clad woman. His next project, Soulfire, was a marked change, however, as it starred? no, wait, hang on?
It wouldn't be so much the comics equivalent of the Status Quo back catalogue in terms of every song sounding the same if at least his women looked like women, rather than like Voldo from Soul Caliber with a bit of make-up on. One look at his recent Supergirl arc of SUPERMAN/BATMAN, however, and you can tell that if she has any internal organs, then she must be keeping them in her breasts, because a) no girl that age is stacked like that naturally and b) there is simply no room whatsoever in her body cavity to hold anything bigger than a small orange.
Turner has had his problems ? he overcame cancer in the early years of the current century, and had a much-publicised dispute with Top Cow over who owned his creator-owned titles (although one would think the answer were in the question, but no matter). That said, however, I'm sure he sleeps easy on his bed made of $100 bills, and no amount of basic anatomy textbooks being mailed to the Aspen studios will cause that to change any time soon.

This article is Ideological Freeware. The author grants permission for its reproduction and redistribution by private individuals on condition that the author and source of the article are clearly shown, no charge is made, and the whole article is reproduced intact, including this notice.