What's funny about cancer? Not much, but MOM'S CANCER gives it a sense of humour, at least. Plus, Gotham before everything got nice again and a bevy of collections, all new this week.
01 May 2006
---
Welcome to The Forecast. Every Monday, Ninth Art's hand-picked team of crack comic pundits offer a rundown of some of the best, worst and most noteworthy books on the shelves of your local comic shop.
BOOK OF THE WEEK: MOM'S CANCER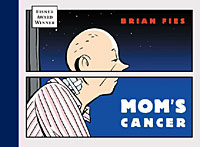 Winner of the inaugural Best Digital Comic award at last year's Eisner's gets a much-deserved paper-form edition in a lovely 128-page hardback edition. Brian Fies tells the story of how his mom's terminal cancer and rounds of chemotherapy and radiation surgery affected his mother, himself and the family unit. It's really good. Buy it.
It's one of the ones where little more needs to be said.
Obvious comparisons can be made with Pekar's OUR CANCER YEAR, but the approaches are very different. Fies tells his story with a dry wit and a quiet anger ("Somehow saying 'I told you so' turned out to be a lot less satisfying than I imagined"), as well as some elegant and witty cartooning which use the visual nature of the medium particularly well. All the collected edition lacks from the web-comic is its sense of life which made it so compulsive, rushing through the updates hoping something, anything would work. This was a serial work at its very best. In fact, formally, its often most reminiscent of Sunday-strip cartoons with each page of comic forming a closed narrative, appreciated as a singular entity. Its point is made. It moves on.
Most of all, it's affecting, in the most literal sense. Not just its huge emotional punch, but in terms of leaving an inedible stain on your thoughts. In my circle of friendswho read it, it changed our behaviour a little. If I drunkenly reach for a cigarette in a blur of drunken nihilism, a friend usually spits ? horrified ? "Cancer Mom!". And while it doesn't stop me, it does make me realise what a useless, selfish idiot I'm being and makes the tobacco taste all the more bitter. And so it should.
MOM'S CANCER is a book about mortality. As it such, it's alive, reaffirms your sense of being alive and our scant year's preciousness. Don't waste it. [Kieron Gillen]
UNFAIR COP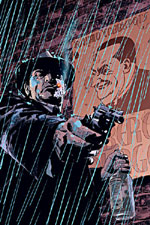 It appears as if the post-Infinite Crisis DC Universe is once again the sort of place where one might not be able to leave the house without becoming a giant turtle. That Silver Age sense of wonder may work well in the pages of SUPERMAN and THE LEGION OF SUPER-HEROES, but it is perhaps less appropriate for DC's "darker" titles. Certain characters benefit from a milieu that closely approximates the real world: if MS. TREE caught a murderer by having Metamorpho choke him with methane, wouldn't that be cheating?
Many series have played off the frisson of flirtation between the magical and mundane aspects of the DC Universe, but few have been as successful - if only up to a point - as GOTHAM CENTRAL.
GOTHAM CENTRAL follows the lives and careers of the cops on Batman's beat - most of whom have, at one time or another, been touched by Gotham's endemic dementia. As conceived by the Marvel-exclusive Ed Brubaker and the exclusively marvellous Greg Rucka, Gotham Central is somewhere between Frank Miller's HOMICIDE and Alan Moore's THE BILL. This week's offering, UNRESOLVED TARGETS, finds Brubaker's DAREDEVIL partners Michael Lark and Stefano Guadiano in fine form: The Joker begins a campaign of sniper-driven terror, while disgraced cop Harvey Bullock pursues The Penguin, in search of Truth.
The timing of UNRESOLVED TARGETS couldn't have been worse: not only has the monthly comic ended, but at least two of the main characters have crossed over to the Mort Weisinger side of the street. Detective Crispus Allen has become the new semidemiurgic SPECTRE (in a mini-series beginning next month). Renée Montoya features heavily in the weekly series 52 (which also debuts next month), with fans speculating that the former detective might be donning a Bat-mantle. And Harvey Bullock is already back on the Bat-beat, as of the start of James Robinson's post-52 Batman series. The characters as they exist today are somewhat distanced from the perhaps more definitive versions on display in GOTHAM CENTRAL: woe betide anyone expecting a smooth transition from trade paperback to monthly magazine.
I can't help but wonder if I'm being needlessly intransigent, with respect to the more whimsical aspects of DC Comics. To be honest, I'm not sure whether this says more about my inflexibilty or the DC continuum's total lack of thematic integrity. Either way, GOTHAM CENTRAL represents the last, best chance to see the DC Universe from the ground level, and as such, it should be treasured. [Matthew Craig]
ROUGH TRADE (reprise)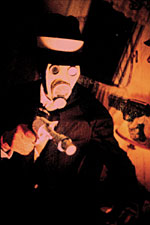 But that's not all. This week sees the softcover edition of BIZARRO WORLD hit shelves. As previewed in this feature last year, Bizarro World is a look at the DC Universe through the eyes of independent and alt-comics luminaries such as Tony Millionaire, Paul Grist and Leela Corman. This PDF preview should be enough to whet your appetite: if you've been able to resist splashing out on the hardback edition, we at Ninth Art applaud you (show off).
Fans of pulp-noir everywhere will be excited to discover a fourth volume of SANDMAN MYSTERY THEATRE arrives in stores this week: THE SCORPION. The story of prototypical superhero Wesley Dodds, who stalked the 1940s armed only with a gas mask, fedora and a beer belly, SANDMAN MYSTERY THEATRE was a small cult hit for Vertigo in the 1990's. As conceived by Matt Wagner, Steven T. Seagle and Guy Davis, the series was a perfect blend of Indie charm and mainstream whimsy, mixing romance, adventure, humanity and origami.
And for those of you who like their vigilantism with a little more guts, there's PUNISHER: THE SLAVERS. The fifth volume of Garth Ennis' Mature Readers Punisher series, SLAVERS follows urban warrior Frank Castle in his pursuit of some particularly nasty human traffickers. Artist on THE SLAVERS is Leandro Fernandez, whose meaty, uncompromising art has become an essential part of the series' success. [Matthew Craig]
DEMOB HAPPY
Grant Morrison's massive SEVEN SOLDIERS event doesn't officially end until the next bookend issue comes out in a couple weeks (just in time to overlap with 52, another event with Morrison's participation). But the conclusion of FRANKENSTEIN brings an end to the seven mini-series that constituted the meat of SEVEN SOLDIERS, and gives us a chance to look back at the minis as a whole.
Mind you, there's a large number of incomplete stories there, as the final fates of the main characters aren't wrapped up yet. But Morrison made a point about how he wanted the minis to stand alone, and the results were... mixed, in a positive sense. Positive, because when it worked, it was brilliant. When it didn't, it was more of a good idea that didn't quite make it.
Morrison's tendency to introduce new stand-alone concepts within the context of each mini sometimes resulted in a sense of overload, with the emotional story buried under a mass of crazy-ass ideas. ZATANNA was most successful at creating a story with a solid emotional arc, while KLARION also offered a story with a solid resolution.
Other minis offered at least one absolutely brilliant story throughout the run. THE MANHATTAN GUARDIAN featured one of the best stories in the entire crossover with #4, a loving homage to Joe Simon's DC work of the 1970s. BULLETEER'S first issue featured some of the crossover's most pointed satire, ruthlessly parodying the concept of "bad girl" comics while serving as an example of one.
Still other books semi-succeeded: SHINING KNIGHT offered incredible fantasy visuals by Simone Bianchi that sometimes didn't translate as well storytelling-wise to the modern-day sequences. MR. MIRACLE, which explored the more psychedelic concepts of Jack Kirby's work from an earthbound perspective, suffered from three artists in four issues, and never quite came together.
Which brings us to FRANKENSTEIN. A pure mad pulp rush, it wasn't anything deep and wasn't supposed to. It was an excuse for the superhumanly-talented Doug Mahnke to draw what he draws best: big musclely weird things. And also an excuse for Morrison to do old-school superheroics with older-school mythology tied in. No real arc, no real resolution, just an immortal badass blowing things up and killing fairies. On Mars. And in the future. Can you really argue with that?
However SEVEN SOLDIERS turns out, it's hard to argue that Morrison didn't at least come close to pulling off one of the most elaborate solo writing gigs in comic book history - and that it didn't help show off the abilities of a number of lesser-known artists. It's a hell of an achievement. Now let's find out how it ends. [Zack Smith]
THE SHIPPING LIST FOR MAY 2nd 2006:
Shipping details come courtesy of Diamond. Visit the Diamond website for the latest information, as the list is subject to change.
DARK HORSE
MAR060045D BPRD UNIVERSAL MACHINE #2 (OF 5) $2.99
DC COMICS
JAN060305 BIZARRO WORLD SC $19.99
MAR060308D BLOOD OF THE DEMON #15 $2.99
MAR060277D DETECTIVE COMICS #819 $2.99
MAR060387D EXTERMINATORS #5 (MR) $2.99
JAN060290 GOTHAM CENTRAL VOL 3 UNRESOLVED TARGETS TP $14.99
MAR060322D HARD TIME SEASON TWO #6 $2.99
MAR060329D JSA #85 $2.99
MAR060345D JUSTICE LEAGUE UNLIMITED #21 $2.25
MAR060349D LOONEY TUNES #138 $2.25
FEB060308 MUSASHI #9 VOL 7 $9.99
MAR060332D OUTSIDERS #36 $2.99
JAN068213 PLANETARY THE FOURTH MAN TP $14.99
FEB060336 SANDMAN MYSTERY THEATRE VOL 4 THE SCORPION TP (MR) $12.99
MAR060392D SWAMP THING #27 (MR) $2.99
MAR060375D TEAM ZERO #6 (OF 6) $2.99
FEB060310 TESTAROTHO VOL 4 (MR) $9.99
FEB060311 TOWER OF THE FUTURE VOL 3 $9.99
MAR060394D Y THE LAST MAN #45 (MR) $2.99
JAN040305 Y THE LAST MAN VOL 3 ONE SMALL STEP TP (MR) $12.95
IMAGE
SEP051671 DISTANT SOIL VOL 4 CODA LTD ED HC (RES) $29.95
MARVEL
MAR062077D ANNIHILATION SILVER SURFER #2 (OF 4) $2.99
MAR062081D CIVIL WAR #1 (OF 7) $3.99
MAR062162D CIVIL WAR TURNER POSTER $6.99
FEB068132J CIVIL WAR TURNER SKETCH VARIANT #1 (OF 7) PI
MAR062086D DOC SAMSON #5 (OF 5) $2.99
MAR062157D ESSENTIAL CLASSIC X-MEN VOL 2 TP $16.99
MAR062116D EXILES #80 $2.99
FEB068099 FANTASTIC FOUR 2ND PTG HITCH VAR #536 (PP #711) $2.99
MAR062065D FRIENDLY NEIGHBORHOOD SPIDER-MAN #8 $2.99
MAR062063D FURY PEACEMAKER #4 (OF 6) $3.50
DEC052071D HOUSE OF M TP $24.99
MAR062155D HULK VISIONARIES PETER DAVID VOL 3 TP $19.99
MAR062093D MARVEL ADVENTURES SPIDER-MAN #15 $2.99
MAR062104D MARVEL ROMANCE REDUX I SHOULD HAVE BEEN A BLONDE $2.99
MAR062091D MARVEL TEAM-UP #20 $2.99
MAR062134D PUNISHER #33 (MR) $2.99
MAR051957D PUNISHER MAX VOL 3 MOTHER RUSSIA TP $14.99
MAR062151D PUNISHER MAX VOL 5 THE SLAVERS TP (MR) $15.99
MAR062121D SENTINEL SQUAD ONE #5 (OF 5) $2.99
MAR062070D SPIDER-MAN UNLIMITED #15 $2.99
MAR062099D ULTIMATE MARVEL FLIP MAGAZINE #12 $4.99
MAR062060D ULTIMATE SPIDER-MAN #94 $2.99
MAR062097D ULTIMATE TALES FLIP MAGAZINE #12 $4.99
JAN068272 ULTIMATE WOLVERINE VS HULK DIRECTORS CUT (PP #709) $4.99
MAR062147D ULTIMATE X-MEN FANTASTIC FOUR TP $12.99
MAR062113D UNDERWORLD #4 (OF 5) $2.99
MAR062131D X-MEN APOCALYPSE DRACULA #4 (OF 4) $2.99
MAR062132D X-MEN THE END MEN AND X-MEN #5 (OF 6) $2.99
OTHER PUBLISHERS
FEB063086F A G SUPER EROTIC ANTHOLOGY #33 (A) $4.99
FEB062851 ARCHIE & FRIENDS #100 $2.25
FEB062852 ARCHIE DIGEST #225 $2.49
OCT052690 DEMO COLLECTION TP $19.95
MAR063151E DRAGONLANCE CHRONICLES VOL 1 DRAGONS OF AUTUMN TWILIGHT TP $17.95
JAN062818 HAUNTED MANSION #3 $2.95
JAN063037F LOVE & ROCKETS VOL 2 #16 (MR) $4.50
FEB063038F NYMPH GN (MR) $12.95
FEB062918 SIMPSONS CLASSICS #8 $3.99
FEB062862 SONIC X #8 $2.25
JAN062948F SOULSEARCHERS #77 $2.50

This article is Ideological Freeware. The author grants permission for its reproduction and redistribution by private individuals on condition that the author and source of the article are clearly shown, no charge is made, and the whole article is reproduced intact, including this notice.