Eddie Campbell considers the FATE OF THE ARTIST in his latest work, while DC toys with the fate of a universe in 52. Plus, go back to the Edge with the SKRULL KILL KREW, and get up early for the CARTOON NETWORK ACTION PACK.
08 May 2006
---
Welcome to The Forecast. Every Monday, Ninth Art's hand-picked team of crack comic pundits offer a rundown of some of the best, worst and most noteworthy books on the shelves of your local comic shop.
BOOK OF THE WEEK: FATE OF THE ARTIST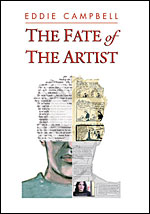 Or, from the title page, "An Autobiographical Novel, with Typographical Anomalies, in which the Author does not appear as himself".
He's a clever one, that Eddie Campbell.
One of the more influential figure in British comics over the past two decades, from his appearances in the seminal Escape anthology in the mid-80s through his self-published tale of Gods and Pub, BACCHUS, to his towering collaboration with Alan Moore on the Ripper-as-Mid-wide-of-the-20th-Century, FROM HELL, he's remained a fascinating creative presence.
Were he to be remembered for one thing, however, it should be his ALEC books. All too at home with the knowledge that autobiography is the sweetest form of lie, he's used his Alec Macgarry alter ego to romanticise and illuminate existence since he started. While he's abandoned the Alec nom de plume, the desire to engage with the idea of authorship, authority and authenticity puts this latest work very much in the ALEC tradition. After all, the plot as such involves the mysterious disappearance of the creator himself.
FATE OF THE ARTIST (First Second) shows all the signs of being a technical tour de force. I've been thinking for the last couple of years that someone's going to reinvent the text in comics, to engage with the idea that, while comics are a visual medium, this isn't to reject text as a visual element in and of itself. It's too early to really say, but picking up from people like, say, Ware, it seems that Campbell may be approaching what I'm hoping for. Oh yeah - fumetti. Typographical fancies. Grand formalist jokes. Seriously, devour the sample pages. He's found a new top to the top of his game.
So, abstractly a detective story, except not really. A joke, except funny, except really not. Beauty and despair, wit and sadness, I'm as excited about reading this as any comic this year. [Kieron Gillen]
DEAL OR NO DEAL
A lot can happen in a year. In my first year at university I made some lifelong friends, indirectly caused the creation of a number of human beings, rediscovered the American comic book, and suffered the traumatic food poisoning incident that has left me the quasi-demented hermit that you don't see before you today.
Yes, a lot can happen in a year. Now, fresh off the insane success of the wrist-opening orgy of benighted self-awareness they called INFINITE CRISIS, which led out of the hellacious IDENTITY CRISIS and into the cross-title reboot ONE YEAR LATER, DC have dived head-first into a new gimmick storyline, 52!
Purporting to fill in the gap between the last page of INFINTE CRISIS and the start of ONE YEAR LATER, 52 runs in 'real-time', with each instalment covering one week in the life of the DC Universe. And it's a substantially different DC Universe from the norm: Superman, Batman and Wonder Woman are all on sabbatical, leaving the B-listers and oddballs to pick up the - a-ha-ha - bat-on.
Focusing on characters such as Steel, The Question and GOTHAM CENTRAL's Renée Montoya, 52 is comprised of several interweaving storylines. To give the series a sense of cohesion, the stories have been plotted by and shared between a team of writers - Grant Morrison, Greg Rucka, Mark Waid and Geoff Johns - and the art follows layouts by veteran creator Keith Giffen. Ordinarily, such committee-led comics would make my palms itch. But I can't quite get past those names. Steel. Keith. Morrison. It sounds like a prog-rock band.
Taking a cue from TV shows such as LOST and DOCTOR WHO, the series is supported by a dedicated Daily Planet website, and as long as nothing goes wrong and nobody falls ill, it should run on time. It'll be an expensive book to keep up with - a commitment of almost £100 over the next twelve months - but if you've already been paying for INFINITE CRISIS, then you're probably used to the extra expense.
52 should be an interesting experiment, if nothing else. The ONE YEAR LATER titles are now in full swing, which may cause timing problems at some stage - the OYL stories spoiling 52 plot points, or worse, couching them in annoyingly guarded language - but as an exploration of the DC Universe without its biggest cash-cows, and as an exercise in micromanaged creativity, 52 will be hard to ignore. [Matthew Craig]
YESTERDAY'S HEROES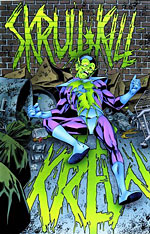 By the mid-1990s, Marvel Editorial had split into factions in order to provide much-needed complication to an already Rubikian mess of crossovers, variant covers, revamps and failed experiments. The SPIDER-MAN titles had gone in one direction, the AVENGERS in another. And the X-MEN were content to spin faster and faster around one stumpy leg, going "wheeee" until they were sick.
But this left Marvel with a bit of a problem: what to do with all the weirdoes and leftovers like The Hulk, Daredevil and Ghost Rider? The obvious answer was to take all these somewhat unrelated concepts and stuff them under the same carpet, on the rather flimsy pretext that they were aimed at more allegedly 'mature' readers.
This vertiginous new imprint, Marvel Edge, predated if not predicted the millennial delights of Quesada and Palmiotti's Marvel Knights, although it made the rookie mistake of starting with a cross-title stunt, in which Nick Fury of SHIELD was killed by The Punisher. For about a week.
The highlights of the short-lived Marvel Edge line included a new TYPHOID MARY story, Liam Sharp on HULK, and a little-known miniseries by Mark Millar and Grant Morrison that was a few years ahead of its time.
SKRULL KILL KREW followed the mysterious shape changing Ryder as he assembled a team of crack 90s archetypes for a road trip across America, fighting the sinister alien menace without, while struggling with the stark biological horror within. In its own way, it was the spiritual ancestor of books such as NEXTWAVE and LIVEWIRES: a cool, if somewhat daffy, adventure romp through the backwoods of the Marvel Universe.
It was also a contemporary of the first volume of Grant Morrison's INVISIBLES, and while it would be a bit of a stretch to connect one to the other thematically, there's a structural similarity between the two series. Both SKK and INVISIBLES are made up of subversive, ostensibly counter cultural characters, although only the former had the brass balls to cast an unrepentant white supremacist as one of the heroes. SKK also managed to slip an unabashedly butch lesbian into the Marvel Universe, quite without anybody noticing, years before anyone got shirty over THE RAWHIDE KID.
The book zinged with the kind of gleeful madness and pithy dialogue that we have come to expect from Morrison and Millar. Central character Ryder is straight out of the Sam Jackson School of Cool, after all. But there are also moments of quiet depth, including a gently nuanced sequence involving Captain America that would charm even the staunchest flagophobe.
The characters were designed by Brendan McCarthy, and mix broad-spectrum nineties chic with a Kafkaesque karmic edge. However, the series proper was illustrated by ZENITH co-creator Steve Yeowell. Everything seems to have a weight to it - a realism - under Yeowell's pen, whose closest peers in American comics are journeyman artists such as Ron Frenz and Pat Olliffe (although Yeowell probably didn't arrive at his style via Steve Ditko). He's certainly a good match for Morrison and Millar on this action-packed story.
It may be that SKRULL KILL KREW has dated a little. It's a ten year-old tale, after all: a Benetton advert predicated on the fear of BSE. But with enough distance, one can appreciate the series for the snapshot of the era that it is, without losing sight of the timelessness that its Kirbyesque milieu evokes. As such, this week's release of a SKRULL KILL KREW trade paperback should appeal to both Morrison/Millar completists and Marvel virgins alike. [Matthew Craig]
WEDNESDAY NIGHT AND SATURDAY MORNING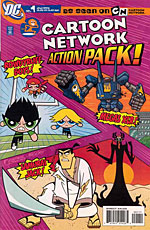 Here in the UK, if you want to watch a decent cartoon, you have to pay for it. Whether it's buying expensive DVDs, or spending exorbitant sums on cable television, if you're a British animaniac, you'd better be prepared to take a second mortgage.
For those of us with little money and lots of moral fibre (i.e., those of us who can resist illegal downloads), there are a few alternatives to the No Cartoon Blues. There's a long tradition of spin-off comics, stretching all the way back to the earliest BUGS BUNNY magazines. Modern licenses have given rise to a number of different formats and imprints. Companies such as Bongo Comics do well with their SIMPSONS and FUTURAMA lines - their books may be found in most British supermarkets and bookstores. And Tokyopop have completely blurred the line between comics and cartoons, taking series such as COWBOY BEBOP and FLCL from anime to manga and back again.
DC Comics has established a strong line of licensed comics, based around not only their native superhero properties, but also the many series that appear on channels such as Cartoon Network. This week sees the latest entry in the Johnny DC range, CARTOON NETWORK ACTION PACK.
ACTION PACK is an anthology series focusing on the channel's less sedate shows, including Judd Winick's JUNIPER LEE Man of Action's BEN 10, the LONE WOLF-inspired Samurai Jack, and more. Indeed, ACTION PACK features stories written by many of the series creators. The artistic roster is equally impressive, with such names as Mark Chiarello among the starting line-up. Chiarello, you'll recall, was the curator of the soon-to-be-defunct anthology series SOLO. As this preview shows, he's no mean artist himself.
Series such as ACTION PACK tend to feed into neat little digest-sized collections, months if not years down the line. I've come to appreciate the periodical format for these sorts of comics - especially Bongo's oversized UK reprints - because they seem to do what the more ponderous, continuity-bound comic lines can only dream of: they deliver a single, solid hit of pure fun in a relatively disposable package. Indeed, they're often so damn good that they demand to be shared, with as many people as possible. And it's been a while since I could say that. [Matthew Craig]
THE SHIPPING LIST FOR MAY 10th 2006:
Shipping details come courtesy of Diamond. Visit the Diamond website for the latest information, as the list is subject to change.
DARK HORSE
MAR060022D BLADE OF THE IMMORTAL #113 (MR) $2.99
FEB060084 SCARY BOOK VOL 2 INSECTS TP $13.95
DC COMICS
MAR060309D 52 WEEK #1 $2.50
MAR060366D ALBION #5 (OF 6) (RES) $2.99
MAR060379D AMERICAN VIRGIN #3 (MR) $2.99
FEB060316 AUTHORITY MAGNIFICENT KEVIN TP $14.99
MAR060286D BATMAN SECRETS #3 (OF 5) $2.99
MAR060344D BATMAN STRIKES #21 $2.25
MAR060368D CAPTAIN ATOM ARMAGEDDON #8 (OF 9) $2.99
MAR060347D CARTOON NETWORK ACTION PACK #1 $2.25
FEB060261 CRISIS ON MULTIPLE EARTHS VOL 4 TP $14.99
FEB068192 DETECTIVE COMICS SECOND PTG #817 $2.50
MAR060343D ELFQUEST THE DISCOVERY #3 (OF 4) $3.99
JAN060356 EX MACHINA #20 (MR) $2.99
MAR060385D FABLES #49 (MR) $2.99
MAR060315D FIRESTORM THE NUCLEAR MAN #25 $2.99
FEB060272 HAWKMAN VOL 4 GOLDEN EAGLE TP $17.99
FEB060250 SUPERMAN FOR TOMORROW VOL 1 TP $14.99
FEB060252 SUPERMAN SHAZAM FIRST THUNDER TP $12.99
MAR060377D WILDCATS NEMESIS #9 (OF 9) $2.99
IMAGE
DEC058379D FELL 3RD PRTG #1 (PP #704) $1.99
FEB045201 MAGE VOL 1 THE HERO DISCOVERED TP $29.99
MARVEL
MAR062078D ANNIHILATION SUPER SKRULL #2 (OF 4) $2.99
FEB061995 ARES #4 (OF 5) $2.99
MAR062120D CABLE DEADPOOL #28 $2.99
MAR062084D FANTASTIC FOUR FIRST FAMILY #3 (OF 6) $2.99
MAR062066D LAST PLANET STANDING #1 (OF 5) $2.99
MAR062094D MARVEL ADVENTURES FANTASTIC FOUR #12 $2.99
MAR062100D MARVEL SELECT FLIP MAGAZINE #12 $4.99
MAR062098D MARVEL TALES FLIP MAGAZINE #11 $4.99
MAR062119D NEW X-MEN #26 $2.99
MAR062154D NYX VOLUME 1 WANNABE TP $19.99
FEB062039 SHE-HULK 2 #7 $2.99
MAR062156D SKRULL KILL KREW TP $16.99
MAR062068D SPIDER-GIRL #98 $2.99
MAR062114D THUNDERBOLTS #102 $2.99
MAR062146D ULTIMATE SPIDER-MAN VOL 15 SILVER SABLE TP $15.99
MAR062124D UNCANNY X-MEN #473 (RES) $2.99
FEB062063 X-MEN DEADLY GENESIS #6 (OF 6) $3.50
MAR062130D X-MEN THE 198 #5 (OF 5) $2.99
OTHER PUBLISHERS
MAR063220F ARCHAIC #3 $2.99
FEB062856 BETTY & VERONICA DOUBLE DIGEST #142 $3.69
MAR062905E CEMETERIANS #1 $2.95
FEB062947F ELVIRA #156 $2.50
MAR063150E FORGOTTEN REALMS DARK ELF SOJOURN CVR B #2 (OF 3) $8.95
MAR063149E FORGOTTEN REALMS DARK ELF SOJOURN SEELEY CVR A #2 (OF 3) $4.95
MAR062877E FULL METAL PANIC OVERLOAD MANGA VOL 5 TP $9.99
MAR063141E GI JOE AMERICAS ELITE #11 $2.95
MAR063147E GI JOE SIGMA 6 #6 $2.95
FEB063068F JANES WORLD VOL 5 TP $15.00
FEB062994 KILLER 7 CVR A #3 (MR) $2.95
FEB062995 KILLER 7 CVR B #3 (MR) $5.95
DEC052765 MAGIC WHISTLE #10 (MR) $11.95
FEB063038F NYMPH GN (MR) $12.95
JAN062813 PATTY CAKE & FRIENDS VOL 1 FC ED TP $12.95
MAR063176F PS238 #16 $2.99
NOV053237F RIVAL SCHOOLS #1 ALVIN LEE COVER B $4.95
NOV053236F RIVAL SCHOOLS #1 REY COVER A $4.95
FEB062959F TALES OF ALVIN MAKER RED PROPHET #2 ARLEM CVR A $2.95
FEB062960F TALES OF ALVIN MAKER RED PROPHET #2 BUXTON CVR B $5.95
MAR063265E TRANSFORMERS BEAST WARS (IDW) #4 (OF 4) $2.99
FEB062824 TROUBLE WITH IGOR GN $3.95
MAR062913E VAISTRON #5 $2.95
FEB062863 VERONICA #170 $2.25

This article is Ideological Freeware. The author grants permission for its reproduction and redistribution by private individuals on condition that the author and source of the article are clearly shown, no charge is made, and the whole article is reproduced intact, including this notice.