It's a week of curiosities as Marvel releases Poe poems adapted by a horror comics master and fairy tales re-imagined with an X-MEN twist. We also catch up on THE ESCAPIST and make friends with FIRESTAR.
15 May 2006
---
Welcome to The Forecast. Every Monday, Ninth Art's hand-picked team of crack comic pundits offer a rundown of some of the best, worst and most noteworthy books on the shelves of your local comic shop.
BOOK OF THE WEEK: HAUNT OF HORROR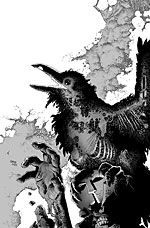 This week sees the release of HAUNT OF HORROR #1 from Marvel, begging the question: Why exactly is Marvel publishing this?
The question's not intended as an insult, but out of genuine curiosity. It's a three-issue, black-and-white horror comic full of Edgar Allen Poe poem adaptations by Richard Corben.
To reiterate: Black-and-white adaptations of famous horror poems in no way related to the Marvel universe, all by one vintage horror artist.
Now, Marvel has done black-and-white horror recently, with the gorgeous DRACULA adaptation from last year. But that was with a character who had a large fan base at the company, and featuring a story that had fans from back in the 1970s. And Corben has done Poe before; a collection of colour adaptations is currently in print from Del Rey.
And there's still another odd aspect: that it's black-and-white Corben. Almost all of Corben's best known work is in full blazing, psychotic colour. Even in the days of Warren's CREEPY and EERIE, his stories were usually found in the 8-page colour inserts in the middle of the magazines. So why are these in black-and-white with grey tones?
However, though the product is undeniably strange, it should also be noted that it has a ton of promise. It's a chance to see a legendary artist with an impressive career try something new, and it's great to see a major company putting out a black-and-white anthology. Has anyone done that since BATMAN: BLACK AND WHITE at DC? So it's a strange book, true. But also one that should be worth picking up. [Zack Smith]
A SPIRITED ESCAPE
Despite winning an Eisner last year for best anthology, THE AMAZING ADVENTURES OF THE ESCAPIST never really captured the feel of the book that it spun-off from, Michael Chabon's 2001 Pulitzer Prize winning novel THE AMAZING ADVENTURES OF KAVALIER AND CLAY. It didn't quite have the right feel, and like the middle chapters of the novel, the comic often needed a good trim: too many ideas, not all of which worked. The key idea of the Escapist (who like Lee Falk's PHANTOM fights crime throughout the centuries as if it were one man rather than a succession) didn't really work in the comic. In the novel, Kavalier and Clay get accused of ripping off the superhero who started it all, and that is what THE ESCAPIST amounted to: a lot of variations on a theme, most from comics we've seen before.
Luckily the talent involved more than makes up for the series' shortcomings. In the first two collections creators as diverse as Chris Ware, Howard Chaykin, Kyle Baker and Bill Sienkiewicz all offered something, and there have been some standout stories: Gene Colan and Glen David Gold's 'The Lady or the Tiger' is an excellent story, and works well within the metafiction Chabon and Dark Horse have created, and 'The Trial of Judy Dark', with art by Dean Haspiel, is a perfect homage to Jack Kirby.
THE AMAZING ADVENTURES OF THE ESCAPIST volume three reprints issues #5 and #6, with quite possibly the biggest coup of series: Will Eisner's last SPIRIT story, a crossover with THE ESCAPIST (featuring P'Gell too). It's fitting, as Chabon opens KAVALIER AND CLAY with a quote by Eisner, and even refers him in the text. The volume also contains a fully painted story by Eddie Campbell, which is always worth a look, as well as stories by Paul Grist and Roy Thomas. [Ben Wooller]
NO CRYIN' FOR MS LION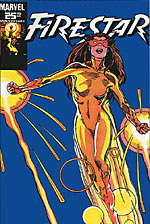 Twenty-five years ago, when many of you reading this were just a mischievous glint in the eyepatch of a filthy New Romantic, a cartoon debuted on American television that married the freshman angst of Spider-Man to the teen wackiness of Fonz and the Happy Days Gang. SPIDER-MAN AND HIS AMAZING FRIENDS saw the web-slinger acquire three new housemates: a yappy dog of death, Iceman of the X-Men, and Firestar, a brand-new character with a familiar face. Together, the >Spider-Friends fought crime out of Spidey's bedroom, tricked out as it was by eternal Sugar-Daddy Tony Stark.
Firestar (Angelica Jones) was created to replace the Human Torch, who was unavailable for legal reasons. The powers were grafted onto a facsimile of Spider-squeeze Mary Jane Watson - albeit with a slightly more Saturday morning-friendly bust - and altered to be microwave- rather than combustion-based. The character proved popular enough to make the transition to the Marvel paperverse, and after a brief appearance in UNCANNY X-MEN, Firestar got her own secret origin story, which sees print again this week in the form of a mighty Marvel digest.
As scripted by Tom DeFalco and illustrated by the sublime Mary Wilshire, FIRESTAR tries to maintain the same mixed tone of the character's animated adventures. Angelica lives in a fairly stable home with her itinerant father and creepy grandmother, while her school life is a little more fraught with trouble. Her mutant powers only serve to complicate things, of course, and soon Angelica finds herself the pawn of a malevolent mutant school-marm and separated from her father.
It's hard to fathom the motives for releasing a twenty year-old comic in this modern mini-format. After all, the character no longer appears in any regular titles, and the modern Marvel Universe is a very different place to that of 1986. It may be a combination of nostalgia for the cartoon and respect for the writer, whose long-running SPIDER-GIRL series is about to end. But the most logical explanation is that Marvel is, once again, trying to reach the elusive teenage girl market with a fairly traditional superhero property.
While FIRESTAR does its best to stand on its own terms, it does rely on quite a lot of obsolete X-MEN back story, which may prove confusing to novice readers. And worse, there's always the possibility that DeFalco's script will have aged terribly. That said, it might be that the dark-Harry Potter plot will appeal to the target audience - a market already well served by real manga publishers - thanks to its unconventionally conventional protagonist. [Matthew Craig]
TO ME, MY ELF MEN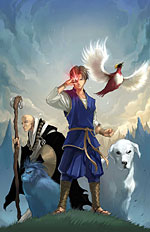 The best stories are those that speak to our deepest emotions and motivations. Love, hate, selfishness and selflessness: anything that can move us on any level will last and last.
Some stories are stronger than others, and can survive the sort of reupholstering that gave us Baz Luhrmann's ROMEO + JULIET or Kenneth Branagh's FRANKENSTEIN. With any luck, this week's new series X-MEN FAIRY TALES will be closer to the former than the latter.
Written by Marvel's chief manganaut CB Cebulski, XFT seeks to graft X-universe characters onto beloved old fables, in order to give readers a fresh perspective on both. The first issue retells the story of Momotaro the Peach Boy, sent from Heaven to fight monsters alongside a trio of animal allies - a mission complicated by the child's familiar ocular condition.
The series pairs Cebulski with several fine artists, including Kyle Baker, Bill Sienkiewicz and, for this first story, mangaka Sana Takeda. Upcoming stories examine the relationship between Professor X and Magneto through the filter of an African fable about a lazy eagle, and a look at the love between Rogue and Gambit against the backdrop of voodoo New Orleans.
The cynic in me thinks that this brand of remix culture comics will do little to appeal to traditionalists from either side of the divide. After all, these stories thrived in the collective consciousness for hundreds of years before anyone thought to add optic blasts. And another part of me thinks that if the X-Men were ever allowed to be real characters, and tell finite, thematically discrete stories, there would be no need to tinker with them in this way.
But the part of me that isn't quite ready to abandon all hope wonders if this allegorical experiment might reveal something new and interesting about the mutant muck-a-mucks. After all, better this than the return of Onslaught. [Matthew Craig]
THE SHIPPING LIST FOR MAY 17th 2006:
Shipping details come courtesy of Diamond. Visit the Diamond website for the latest information, as the list is subject to change.
DC COMICS
MAR060381D 100 BULLETS #72 (MR) $2.99
MAR060310D 52 WEEK #2 $2.50
MAR060279D BATMAN LEGENDS OF THE DARK KNIGHT #205 $2.99
MAR060287D BATMAN YEAR ONE HUNDRED #4 (OF 4) $5.99
MAR060380D BITE CLUB VAMPIRE CRIME UNIT #2 (OF 5) (MR) $2.99
FEB060307 DEVIL DOES EXIST VOL 6 $9.99
MAR060382D DMZ #7 (MR) $2.99
FEB060309 GALS VOL 6 $9.99
MAR060316D GREEN ARROW #62 $2.99
MAR060369D MAJESTIC #17 $2.99
MAR060284D MAN-BAT #2 (OF 5) $2.99
MAR060331D MANHUNTER #22 $2.99
MAR060372D RED SONJA CLAW DEVILS HANDS #3 (OF 4) $2.99
MAR060283D ROBIN #150 $2.99
MAR060350D SCOOBY DOO #108 $2.25
MAR060337D SGT ROCK THE PROPHECY #5 (OF 6) $2.99
MAR060335D SHADOWPACT #1 $2.99
FEB068194 SUPERMAN FOR ALL SEASONS TP $17.99
JAN060352 TENJHO TENGE VOL 7 $9.99
FEB060341 Y THE LAST MAN VOL 7 PAPER DOLLS TP (MR) $14.99
FEB060312 YOUNG MAGICIAN VOL 4 (MR) $9.99
IMAGE
DEC058379D FELL 3RD PRTG #1 (PP #704) $1.99
MARVEL
MAR062075D ANNIHILATION NOVA #2 (OF 4) $2.99
MAR062150D BLACK PANTHER BAD MUTHA TP $10.99
MAR062080D CAPTAIN AMERICA #18 $2.99
MAR062159D ESSENTIAL DR STRANGE VOL 1 TP NEW PTG $16.99
MAR062136D HAUNT OF HORROR EDGAR ALLAN POE #1 (OF 3) (MR) $3.99
MAR062092D MARVEL ADVENTURES AVENGERS #1 $2.99
MAR062095D MARVEL ADVENTURES FLIP MAGAZINE #12 $4.99
MAR062096D MARVEL HEROES FLIP MAGAZINE #12 $4.99
MAR062101D MARVEL LEGACY 1970S HANDBOOK $4.99
MAR062107D MOON KNIGHT #2 $2.99
MAR062106D MS MARVEL #3 $2.99
MAR062108D NEW AVENGERS #19 $2.99
MAR062105D NEW MANGAVERSE #5 (OF 5) $2.99
MAR062112D SQUADRON SUPREME #3 $2.99
MAR062062D ULTIMATE X-MEN #70 $2.99
MAR062152D WOLVERINE CLASSIC VOL 3 TP $14.99
MAR062126D WOLVERINE ORIGINS #2 $2.99
MAR062128D X-MEN #186 $2.99
MAR062129D X-MEN FAIRY TALES #1 (OF 4) $2.99
MAR062144D X-MEN FIRESTAR DIGEST TP $7.99
OCT052028 X-MEN PHOENIX ENDSONG TP $14.99
MAR062161D X-MEN POSTER BOOK $4.99
OTHER PUBLISHERS
FEB063087F A G SUPER EROTIC ANTHOLOGY #34 (A) $4.99
MAR063276E ANGEL SCRIPTBOOK #3 $3.99
MAR062904E BEAR VOL 2 DEMONS TP $14.95
MAR062961E BETTY & VERONICA SPECTACULAR #74 $2.25
FEB063168F BUCKAROO BANZAI #1 (OF 3) $3.50
FEB063169F BUCKAROO BANZAI BECK SP ED CVR #1 OF(3) $4.50
MAR063224E DONALD DUCK AND FRIENDS #340 $2.95
OCT052943 DORK TOWER #33 $3.49
FEB062990 ELSINORE VOL 1 PSYCHO SANCTII TP $14.95
FEB062980 FAMILY GUY VOL 1 GN (OF 3) $6.95
MAR062962E JUGHEAD #173 $2.25
MAR063243F LIVING WITH ZOMBIES #7 (MR) $2.95
MAR063226E MICKEY MOUSE AND FRIENDS #289 $2.95
JAN062996 PURGATORI (DDP) #6 (MR) $2.95
NOV053237F RIVAL SCHOOLS #1 ALVIN LEE COVER B $4.95
NOV053236F RIVAL SCHOOLS #1 REY COVER A $4.95
MAR063071E SIMPSONS COMICS #118 $2.99
MAR062967E SONIC THE HEDGEHOG #162 $2.25
MAR062970E TALES FROM RIVERDALE DIGEST #11 $2.49
MAR063268E TRANSFORMERS GENERATIONS (IDW) #3 (NOTE PRICE) $2.49
MAR062914E WONDERLAND #1 $3.50

This article is Ideological Freeware. The author grants permission for its reproduction and redistribution by private individuals on condition that the author and source of the article are clearly shown, no charge is made, and the whole article is reproduced intact, including this notice.