The hero returns as Bryan O'Malley unleashes the third volume of SCOTT PILGRIM. Sam Kieth reveals his INNER BIMBO, Gail Simone gets bad to the bone, and Ninth Art take history lessons from a great teacher.
22 May 2006
---
Welcome to The Forecast. Every Monday, Ninth Art's hand-picked team of crack comic pundits offer a rundown of some of the best, worst and most noteworthy books on the shelves of your local comic shop.
BOOK OF THE WEEK: SCOTT PILGRIM AND THE INFINITE SADNESS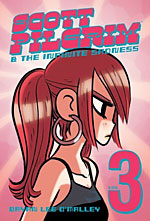 Bryan Lee O'Malley's SCOTT PILGRIM (Oni Press) is a word of mouth classic, and it's not hard to see why. The books feature a diverse, well-rounded cast, led by the delightfully knuckleheaded and occasionally unsympathetic Pilgrim. The plot expresses the disaffection of young adulthood through the twin media of videogames and Hard Rock, and the art offers an emotional range and depth of field to be savoured. Also, hot girls.
This week sees the publication of the third volume in the series, SCOTT PILGRIM AND THE INFINITE SADNESS (previewed here, with a free comic here), and it's worth going back to the beginning to discover why this post-millennial slacker became so popular.
If Scott Pilgrim has an overarching theme, it's one of baggage. Most of the central characters bear the scars of broken or damaged relationships, whether it's with ex-boy/girlfriends, absent parents or simply with one's peers. Romantic entanglements sit at the heart of the story, of course. In Scott Pilgrim's world (as with ours), love'll screw you up one minute, but set you right the next. The skeleton of the story, then - Scott Pilgrim has to fight the Seven Evil Ex-Boyfriends of Ramona Flowers in order to win the right to date her - acquires a metaphorical dimension: the older we get, the more baggage we accumulate, and the more difficult it can be to set aside for a new relationship.
As with his earlier novel, LOST AT SEA, O'Malley has shown with SCOTT PILGRIM that he's a keen student of human behaviour. In amongst all the mortal combat, surreal dreams and dance-offs, there are scenes of awkward new-love fumblings and stark, ambush-induced terror. This last makes for one of my favourite moments in volume two, where Scott Pilgrim receives an unexpected phone call from his ex-girlfriend. The previously expansive, full-bleed artwork collapses to a rigid nine-panel grid, shrunk to cover approximately 80% of the page. The scene is thereby reduced to fragments: the side of Scott Pilgrim's face; a piece of a magazine cover; a close-up on a cherished old photo. It turns six pages of talking heads into six pages of squirming.
O'Malley's cartoony art is deceptive. It's flowing and expressive, but finely detailed at the same time. The wide-eyed character designs, a slight step away from LOST AT SEA, are reminiscent of the work of Rodney Alan Greenblatt, creator of PARAPPA THE RAPPER. The videogame references during the fight scenes are well handled, and require little in the way of prior knowledge. The metaphorical layering the fights add to the story help keep SCOTT PILGRIM away from LOST AT SEA's post-adolescent shellshock.
If there's a formula to explain the success of SCOTT PILGRIM, then it's this: the story is steeped in the knowledge that your life doesn't magically sort itself out when you turn 21. You don't always end up with a clean slate. But if you can keep moving, and not let life weigh you down, you can deal with just about anything.
Plus, people turn into cash when they die. And, y'know, you can always use more of that. [Matthew Craig]
THE SUCCESS OF MY SECRET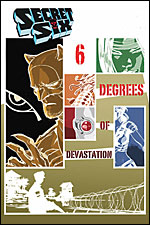 The lead-in miniseries that supported DC's INFINITE CRISIS were mostly pretty darned bad. DAY OF VENGEANCE made the mistake of thinking that anyone cares much about Blue Devil, Ragman and the Spectre, and had to rely on the quietly quaint Captain Marvel to try to rally interest. RANN-THANAGAR WAR was a good idea with a terribly flat execution - odd, when you consider that the recent GREEN LANTERN CORPS mini-series was a nicely entertaining ride. Then, of course, there's THE OMAC PROJECT, which was hampered by the fact that it required you to read a four-part Superman/Wonder Woman crossover between issues #5 and #6.
It was a very pleasant surprise, then, to discover that VILLAINS UNITED was a tightly plotted mystery with satisfying action sequences and a cast of villains you love and loathe in equal measure. Writer Gail Simone took a half-dozen third-string threats (including Catman, for pity's sake) and turned them into the DCU's equivalent of the Losers, hunted by their own kind as they work behind the scenes.
Now they're back, going under the Enid Blyton-esque soubriquet of the Secret Six, with the first issue of their mini-series shipping this week. This series promises to put the heat back on the errant villains, as they're targeted by a mystery opponent and go up against the new/old/caffiene-free Doom Patrol. Sadly, original VILLAINS UNITED artist Dale Eaglesham isn't returning for this series, although his replacement, Brad Walker, has a solid style that should see the series through okay.
The SUICIDE SQUAD vibe that you might be getting off this is no coincidence - Simone is an avowed fan of John Ostrander. If she's looking to replicate the feel of that book, SECRET SIX should be well worth hunting down.
BLONDE ON THE INSIDE
Sam Kieth applies his surreal sensibilities to the twilight crisis of an old man's regrets with his new book, MY INNER BIMBO (Oni Press). The five-part miniseries, part of a larger cycle of connected works, reunites Kieth with one of the characters from his earlier novel, OJO.
BIMBO finds Lo, the grandfather from OJO, reflecting on his life and the choices he has made, including marrying an older woman. Dreaming of what might have been, Lo is confronted by an unlikely physical manifestation of his undernourished emotional landscape - the eponymous bimbo bombshell.
This interview suggests that there is more to the bimbo than some latent transgenderism. There is, of course, a long tradition in fiction of internal avatars leading a troubled protagonist out of their self-imposed misery. One suspects that Kieth's BIMBO may be closer to MISTER BENN's Shopkeeper than FIGHT CLUB'S Tyler Durden.
Kieth's intricately expressive art is augmented for BIMBO by the participation of Josh Hagler. Hagler appears to occupy the overlap space in the great Venn Diagram of Ashley Wood, David Mack and Dave McKean, which makes him an interesting partner for the more traditionally cartoonish Kieth.
While the series is perhaps indicative of Sam Kieth's own existential turmoil, it will likely appeal to anyone over the age of 15. Regrets are like wrinkles, after all: they accumulate with time, and you can't get rid of them without looking like an idiot. [Matthew Craig]
SOME ACHIEVE GREATNESS
One of my favourite manga is GTO: GREAT TEACHER ONIZUKA, in which a shiftless rebel discovers new purpose in life when he resolves to become a high school teacher. GTO mixes sex-farce with action and drama to great success, undercutting some occasionally formulaic plots (and the character's more lascivious tendencies) with just the right amount of levity. From catching a suicidal sophomore to providing an alibi for a perverted principal, GTO is twenty-five volumes (or 5000 pages) of thoroughly engrossing nonsense. And every few weeks, I use the money I've saved by ignoring the mainline superhero titles to buy another instalment.
But it's not the whole story.
Eikichi Onizuka first appeared in Tohru Fujisawa's SHONAN JUMAI GUMI, which debuted in March 1991. Repackaged by Tokyopop as GTO THE EARLY YEARS: SHONAN JUMAI GUMI, the series tells the story of Onizuka's formative years, running about in gangs with his pal Ryuiji. According to this spoiler-filled Wikipedia entry, SJG follows Onizuka and Ryuiji's quest to both redeem themselves and lose their virginity, although not necessarily in that order.
The first English-language volume of SHONAN JUMAI GUMI arrives in stores this week, with thirty more books to follow. Between this, GTO, and the single-volume uber-prequel, BAD COMPANY, Fujisawa-san has devoted approximately 10,000 pages to exploring one character's road to maturity. It took the publishers of that other student-turned-teacher series AMAZING SPIDER-MAN thirty-eight years to rack up that many pages. And Stan Lee didn't stick around for all of them.
While the sight of thirty-odd novels dedicated to one character all on the same bookshelf can be intimidating at first glance, it does mean that, if you're lucky, you've got the reader for life. Fujisawa's devotion to his countercultural icon ensures that, for good or bad, Onizuka is always Onizuka. No 'Iron Onizukas' or ill-advised detours into tangential themes for this character.
Best of all, in keeping as much of the character's back catalogue in print (and affordable) as possible, Tokyopop are doing what any publisher worth their salt should: giving the reader a reason to give them money.
Who would have thought it could be that simple? [Matthew Craig]
THE SHIPPING LIST FOR MAY 24th 2006:
Shipping details come courtesy of Diamond. Visit the Diamond website for the latest information, as the list is subject to change.
DARK HORSE
MAR060033D CONAN BOOK OF THOTH #3 (OF 4) $4.99
DC COMICS
MAR060311D 52 WEEK #3 $2.50
MAR060365D AMERICAN WAY #4 (OF 8) $2.99
MAR060278D BATMAN #653 $2.99
MAR060313D BLUE BEETLE #3 $2.99
MAR060348D CARTOON NETWORK BLOCK PARTY #21 $2.25
MAR060281D CATWOMAN #55 $2.99
MAR060321D HAWKGIRL #52 $2.99
MAR060388D HELLBLAZER #220 (MR) $2.99
MAR060328D JSA CLASSIFIED #12 $2.99
FEB060288 LEGION OF SUPER HEROES VOL 2 DEATH OF A DREAM TP $14.99
MAR060389D LOVELESS #7 (RES) (MR) $2.99
FEB060333 LOVELESS VOL 1 A KIN OF HOMECOMING TP (MR) $9.99
MAR060334D SECRET SIX #1 (OF 6) $2.99
MAR060373D SKYE RUNNER #2 $2.99
JAN050285 SUPERMAN BATMAN VOL 1 PUBLIC ENEMIES TP $12.99
FEB060253 SUPERMAN STRANGE ATTRACTORS TP $12.99
DEC050241D SUPERMAN THE DAILY PLANET TP $19.99
JAN060352 TENJHO TENGE VOL 7 $9.99
MAR060393D TESTAMENT #6 (MR) $2.99
FEB060312 YOUNG MAGICIAN VOL 4 (MR) $9.99
IMAGE
MAR061886D WITCHBLADE #98 $2.99
MAR068289D WITCHBLADE WW PHILADELPHIA TC STORE ED #98 $5.00
MARVEL
MAR062076D ANNIHILATION RONAN #2 (OF 4) $2.99
MAR062073D AVENGERS & POWER PACK ASSEMBLE #2 (OF 4) $2.99
MAR062079D BLACK PANTHER #16 $2.99
MAR062149D BLACK WIDOW THINGS THEY SAY ABOUT HER TP $15.99
MAR062083D DAREDEVIL #85 $2.99
APR062024D ETERNALS SKETCHBOOK $1.99
MAR062117D EXILES #81 $2.99
MAR062088D FANTASTIC FOUR A DEATH IN THE FAMILY $3.99
MAR062089D IRON MAN #8 $2.99
MAR062067D LAST PLANET STANDING #2 (OF 5) $2.99
MAR062102D MARVEL MILESTONES BLACK PANTHER STORM & KA-ZAR $3.99
MAR068098D MARVEL ZOMBIES 2ND PTG VAR #5 (OF 5) $2.99
MAR062118D NEW EXCALIBUR #7 $2.99
MAR062148D NEW THUNDERBOLTS VOL 3 RIGHT OF POWER TP $17.99
MAR062109D NEXTWAVE AGENTS OF HATE #5 $2.99
FEB068167J NEXTWAVE AGENTS OF HATE CRAYON BUTCHERY VAR #5 (PP #712 PI
JAN062081 POWERS #18 (MR) $2.95
DEC041799D RUNAWAYS VOL 3 GOOD DIE YOUNG DIGEST TP $7.99
MAR062069D SENSATIONAL SPIDER-MAN #26 $2.99
MAR062110D SHE-HULK 2 #8 $2.99
MAR062071D SPIDER-MAN LOVES MARY JANE #6 $2.99
MAR062125D WOLVERINE #42 $2.99
MAR062127D X-FACTOR #7 $2.99
JUN041636 X-MEN DAYS OF FUTURE PAST TP $19.99
MAR062133D X-STATIX PRESENTS DEAD GIRL #5 (OF 5) $2.99
OTHER PUBLISHERS
APR063148 ANGRY YOUTH COMIX #11 (MR) $3.50
DEC053047 ANTIQUE GIFT SHOP VOL 2 GN $10.95
MAR062953E ARCHIE #566 $2.25
MAR062957E ARCHIE DOUBLE DIGEST #170 $3.69
FEB063168F BUCKAROO BANZAI #1 (OF 3) $3.50
FEB063169F BUCKAROO BANZAI BECK SP ED CVR #1 OF(3) $4.50
MAR062876E CROMARTIE HIGH SCHOOL MANGA VOL 6 TP $10.99
APR062878 EMO BOY #7 $2.95
MAR063070E FUTURAMA COMICS #25 $2.99
MAR062941E GOLD DIGGER VOL 8 PKT MANGA TP (NOTE PRICE) $12.95
JAN063075F HISSING VOL 1 GN $10.95
MAR062944E HISTORY OF WEB COMICS SC $14.95
MAR063243F LIVING WITH ZOMBIES #7 (MR) $2.95
FEB063204 LOCAL #5 (OF 12) (MR) $2.99
MAR063254F MIKUS SEXUAL ORGY DIARY TP (A) $19.95
MAR063112F MONTE COOKS PTOLUS #1 $2.95
FEB063206 MY INNER BIMBO #1 (OF 5) (MR) $2.99
FEB063357F NEW ONIMUSHA NIGHT OF GENESIS VOL 1 GN $12.95
MAR063108F ORSON SCOTT CARD WYRMS #1 CVR A $2.95
MAR063109F ORSON SCOTT CARD WYRMS #1 CVR B $5.95
MAR062906E PIRATE CLUB #10 $2.95
FEB062937F SHADES OF GRAY COMICS & STORIES GN $24.95
MAR063227E UNCLE SCROOGE #354 $6.95
JAN063044F UPTIGHT #1 $2.50
MAR063228E WALT DISNEYS COMICS AND STORIES #669 $6.95
APR063168 ZED #7 $3.50
MAR063380F ZOOM SUIT #2 (OF 4) $2.95

This article is Ideological Freeware. The author grants permission for its reproduction and redistribution by private individuals on condition that the author and source of the article are clearly shown, no charge is made, and the whole article is reproduced intact, including this notice.