He's a master craftsman when it comes to 'the labour-intensive botheration of strip cartoons', yet Raymond Briggs' working class heroes are little known outside the UK. Ninth Art profiles the acclaimed creator of WHEN THE WIND BLOWS.
17 May 2004
---
EARLY DAYS
Born at his home in Wimbledon Park, London, in 1934, Raymond Briggs was the only child of Ethel and Ernest Briggs. Like many of his comic characters, Briggs had decidedly working-class roots. His father delivered milk door-to-door while his mother was a maid. Evacuated out of London during the Second World War, Briggs returned to school in the capital after the war.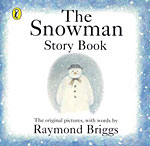 He soon showed a great deal of artistic talent and began cartooning. His mother actively discouraged her son from working in such a disrespected field. Nevertheless, after school Briggs attended a local art college where he was awarded a National Diploma of Design (in Painting) Certificate.
After a brief break for National Service, Briggs resumed his further education, studying painting for two more years at the Slade School of Fine Art, where he was awarded The Diploma of Fine Art (London University) Certificate. Briggs then embarked on a career of painting, eventually moving into illustration. This was a job that seemed to lead the artist inextricably towards illustrating children's books. But despite winning acclaim and a prestigious Kate Greenaway medal for his contribution to a 1966 collection of nursery rhymes for children entitled THE MOTHER GOOSE TREASURY, Briggs still felt constrained by the conventions of the form he was working in. The comic strip format that he subsequently adopted and adapted became a recurrent device in his work from that moment onwards.
LANDMARKS
1973-5 - Briggs' first book in comic strip form, entitled FATHER CHRISTMAS, was a tale of a grumpy yet good-humoured salt-of-the-earth Santa Claus, a man not too detached from reality to express his working-class exasperation at the petty demands of his job. Perhaps because of this, Briggs' Father Christmas is rather more believable and more human than those featured in the advertisements of, for example, certain multinational corporations.
What Briggs had created in FATHER CHRISTMAS might have been called a 'graphic novel' if it had been released 15 years later, or a 'graphic album' had it premiered in mainland Europe. The book's quality demanded shelf space in mainstream book shops, and its success brought Briggs another Kate Greenaway medal and prompted him to write a sequel, FATHER CHRISTMAS GOES ON HOLIDAY, in 1975. As the title suggests, it contained a tale of what Santa gets up to when he's not working.
According to Briggs, his reasons for opting for what he describes as "the labour-intensive botheration of strip cartoons" were mainly due to space considerations. Usually a picture book has 32 pages, and thus, around 32 pictures, but the illustrator found he wanted to tell stories with more than just 32 pictures. To solve the problem of limited space on the page, Briggs resorted to a comic strip format that allowed him to fit more drawings on a page and more story into his books.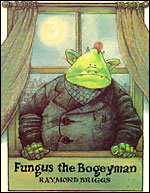 1975-1979 - Briggs published FUNGUS THE BOGEYMAN. Again the setting had a profoundly working-class atmosphere, but instead of concentrating on an ostensibly sympathetic character like Father Christmas, the focus was a family of Bogeymen, feasting on snot and bogey pie and other such mucous delights. In short, the book covered all the sorts of filth that children delight in - needless to say it was often more popular with kids than their parents. Each page of this bogey-filled book was entirely hand-lettered with dense text describing all manner of extra details of vileness and background information on bogey-life.
After a work requiring such detailed lettering, it is perhaps understandable that for Briggs' next and possibly most well known project, he decided to dispense with the tiresome chore of lettering altogether. First published in 1978, THE SNOWMAN is Briggs' most instantly recognisable book. Told in the form of a wordless comic strip, it follows the magical friendship of a boy and his snowman as the pair travel to the Pole and see all the other snowmen before the inevitable melt sets in.
The absence of speech and pretty much any text at all adds a sense of timeless poignancy to the story, as the characters carry out their tragic dumbshow. THE SNOWMAN demonstrated Briggs' elegant mastery of comics form. Its success was underlined by the profusion of SNOWMAN merchandise, not to mention the SNOWMAN animated movie and a SNOWMAN stage play produced subsequently.
Early 1980s - Briggs next undertaking was something of a departure for him; a vaguely Kafkaesque tale entitled GENTLEMAN JIM, which has as its central characters Jim Bloggs and his wife Hilda, who are an uneducated working class couple. Jim dreams of a better life for himself and his wife, but is continually confounded by bureaucracy and red tape, and eventually ends up in court on a charge of highway robbery.
Jim and Hilda are more closely drawn from Briggs own parents than any of his previous work, a motif that would reach its pinnacle years later in his comic strip biography of his parents, ETHEL AND ERNEST.
Briggs brought Jim and Hilda back for his next and most devastating book, WHEN THE WIND BLOWS (1982). The book marked something of a departure in style for Briggs, and utilised some of the smallest panels of his comic strip career. Briggs was prompted to experiment in format after he saw a miniature version of his FATHER CHRISTMAS produced by a Swiss publisher. He'd never seen his work shrunk so small before while remaining legible, but the technique piqued his curiosity enough for the illustrator to employ it in WHEN THE WIND BLOWS.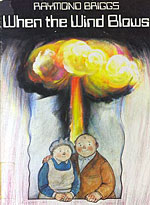 Like the Pulitzer prize-winning MAUS, WHEN THE WIND BLOWS was a truly massive story told with very small pictures. It follows the lives of Jim and Hilda, now retired, who face first the imminent threat of a nuclear war, and then the devastating fall out of a nuclear strike. The cosiness of the couple's daily life is brutally undercut by the bleak double-page spreads portraying the mechanisms of war being deployed against them in a distant land.
Throughout the story we see no other characters, and the sense of claustrophobic doom is compounded as the couple waste away before the reader's eyes from the fallout. Jim and Hilda are first confused and confounded by the woefully inadequate and inaccurate government advice they receive, and are then irradiated by a technology and a conflict they don't even comprehend. The result is both touching and terrifying.
Briggs said of this work, "I hoped WHEN THE WIND BLOWS might strike a blow for the much-despised medium of strip cartoons. It showed that it could deal with a profoundly serious subject in a straightforward way and make a valid point."
As far as this hope was concerned, Briggs was successful beyond his wildest dreams. The book was discussed in the British House of Commons. Michael O'Halloran MP described it as "both highly original and extremely timely. It should have some influence and cause some re-thinking." Lord Elwyn-Jones stated, "It raises the gravest questions of our time in the most entertaining and cumulatively persuasive way." Labour MP John Garrett even tabled the motion, "This House welcomes the publication of WHEN THE WIND BLOWS by Raymond Briggs as a powerful contribution to the growing opposition to nuclear armament and hopes that it will be widely read."
1984 - Briggs continued his political commentary in 1984 with his stinging attack on The Falklands War; THE TIN-POT FOREIGN GENERAL AND THE IRON LADY. Lacking the subtlety of WHEN THE WIND BLOWS, THE TIN-POT FOREIGN GENERAL is viciously pointed, with righteous anger dripping from every page. Both Argentine military President Leopoldo Galtieri and British Prime Minister Margaret Thatcher were portrayed as maniacal automatons unleashing hell on the all too human residents of the Falkland Islands.
Again Briggs' work provoked debate in the House of Commons. Yet because of its blistering criticism, or perhaps because of its lack of central human characters, the book failed to elicit quite the same response in its audience as WHEN THE WIND BLOWS.
Following THE TIN-POT FOREIGN GENERAL, Briggs returned to more sedate tales for children and adults, such as UNLUCKY WALLY (1987) and UNLUCKY WALLY 20 YEARS ON (1989), which follow the misadventures of one of the planet's most unfortunate people.
1990s - Briggs showed no sign of diminishing his output during this decade, publishing THE MAN in 1994, about a tiny visitor who outstays his welcome, and THE BEAR (1994) about a young girl's quest to replace her lost teddy bear. However. his standout project of the decade was a biography of his parents simply entitled ETHEL AND ERNEST, which won him the award for the best illustrated book of the year in the 1998 British Book Awards.
With ETHEL AND ERNEST, Briggs' work is at its most intimate and emotionally honest. Gone are the kindly yet crude caricatures of Jim and Hilda; instead there stand Briggs' parents, Ethel and Ernest Briggs. The story follows the couple from the moment they meet until the moment they part at death. It is a loving, yet unsentimental portrait, by a caring yet not uncritical or unselfish son.
Recent Days - Age shows no sign of stopping Briggs. His most recent book, UG, was released in 2001, and concerns a cave-boy inventor questing after the holy grail of soft trousers. UG is heavily annotated in a similar fashion to FUNGUS THE BOGEYMAN, but that's where comparisons with the past must end - Briggs is not content to rest on his laurels, and aside from his illustration work for other authors, he's even now working on another top secret book project.
NINTH ART RECOMMENDS
FURTHER READING:
A Raymond Briggs fansite FUNGUS THE BOGEYMAN (1979): Briggs' most amusing work, this takes the familiar tropes of children's illustrated books and adds as much foul excrescence as it possibly can without losing any of the social commentary, much to the ghoulish delight of children everywhere.
WHEN THE WIND BLOWS (1982): The most harrowing and lingering piece of storytelling from Briggs, which captured the zeitgeist exactly amid pre-Glasnost fears of nuclear war.
BRIGGS ON BRIGGS
"The one great advantage of strip cartoons is that you can tell the story without any narrative prose. Readers and reviewers never mention this, which is good as it means they haven't noticed it, and this shows it has worked. It is the thing I am most pleased about in these books."
"I wish I could be a proper writer, having to do only the words. Proper writers can start at the beginning, go on till they get to the end, then stop and hand it in. No drawing and painting, no design, no jacket to do and, above all, no hand lettering. Luxury."

This article is Ideological Freeware. The author grants permission for its reproduction and redistribution by private individuals on condition that the author and source of the article are clearly shown, no charge is made, and the whole article is reproduced intact, including this notice.