He's the aspiring Picasso who has become one of comics' hottest and most inventive talents. Ninth Art looks back on the career so far of one of comics' few recognised modern artists, the prodigious Paul Pope.
21 July 2003
---
EARLY DAYS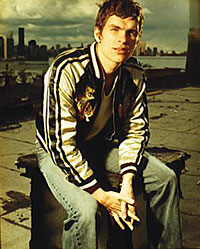 Paul Pope, ingénue and self-styled 'Comics Destroyer', was born in 1972 in Ohio, USA. Pope studied fine arts at college with the intention of becoming the next Picasso, before switching to philosophy, and then switching back to fine arts. After eight years of feeling unchallenged, he dropped out: "School really fucks you up if you're at all serious about living an intelligent, examined life. Either you fall prey to the current academic prejudices, or you become a railing cynic. I dropped out as a third alternative, and I'm much happier making comics."
Pope had his first art job at 14, and when he was 17 produced a comic called GESTALT with a friend. From the age of 20, he's been living off his art, producing anything from school play sets to character development, copyright illustrations and even portraits.
He self-published his 'drawn' novel, SIN TITULO, in 1993, but it wasn't until a few years later, with THB, that Pope started to make a name for himself.
LANDMARKS
1994 - Pope self published his second book, THE BALLAD OF DOCTOR RICHARDSON, inspired by one of his college professors, which displays Pope's unabashedly romantic side. He was wary of self-publishing at first, believing that self-publishing "had this vanity stigma, and I wanted to avoid that. But when I started meeting other people in the comic business, I realized I was wrong. Literary self-publishing and comic self-publishing are perceived very differently." He also contributed some short pieces to Negative Burn.
Later in 1994, he released issues 1 and 2 of the book that he is most known for, THB. A comic series (still continuing) in the cutie pie style, THB surreally follows teenager HR Watson and her purple 'mek' bodyguard THB on the run through a colonised retro-bohemian Mars. The original series of THB proved to be an indie hit, and featured essays (or, rather, well-structured rants) by Pope on any number of topics.
In the same year at the San Diego con, he approached an editor from Kodansha, one of Japan's biggest manga publishers, and was asked to create a proposal for them. Within four months, he had signed a contract with Kodansha, which lasted for five years.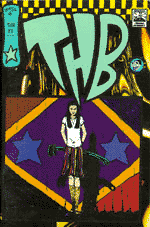 1995 - This proved to be one of the busiest times in Pope's career so far. Still self-publishing a few issues of THB, Pope began a serialised crime story, ONE TRICK RIP-OFF, in Dark Horse Presents, with an eye to having it collected. At the same time Pope started to work on SUPERTROUBLE for Kodansha, which was "basically THB boiled down to the point where it was sort of silly". For an artist whose style was already influenced by manga, the next five years really gave Pope an insight into the Japanese publishing world, a place vastly different from America. While often criticised by some Japanese editors, Pope felt that "it was fascinating, the nuances of storytelling that were coming across in the criticism; I really felt like I was getting educated."
1996 - Pope experimented with large tabloid-sized books with BUZZ BUZZ COMICS MAGAZINE, containing the usual THB variety of essays, interviews and comics, including a eulogy to Hugo Pratt and 40 pages of Smoke Navigator, elements of which would be absorbed into 100%; and GIANT THB PARADE, which featured the first ESCAPO story. The tabloid-size was something Pope loved, and he has said he plans on returning to it: "I basically believe that the format of comics needs to be changed in order for the market to expand, for new readers to be interested in comics. I think there're too many associations with the pamphlet-sized format of comics to really bring in people who would love comics if they only knew about them. So that's one element; that's sort of the economic visionary argument. "On another level, because comics are graphic, I want to celebrate the drawing by giving it a larger platform literally. And in my case, since my comics pages, the originals, are literally twice as large as most comic book guys' size pages, I wanted to produce them in a larger format."
1997 - Pope continued with the tabloid-sized format, publishing P-CITY PARADE, which was termed the 'experimental' THB, hated by critics for its lack of straight storytelling. Dark Horse published the ONE TRICK RIP-OFF, with extra pages, and a new introduction by Pope, but with a horribly coloured cover. He also contributed the art for a HELLBLAZER story written by Paul Jenkins in the Vertigo WINTERS EDGE.
1998 - The last of the oversized THB comics, THB CIRCUS. Outside of comics, Pope provided the cover and interior illustrations for BY THE BALLS: A BOWLING ALLEY MURDER MYSTERY, by Jim Pascoe and Tom Fassbender (UglyTown), as well as the follow-up novel, FIVE SHOTS AND A FUNERAL, and contributed to the then-fledgling ONI PRESS DOUBLE FEATURE with 'Car Crash'.
During this time, Pope was pumping out a massive 80 pages of art to keep up with his work for Kodansha and getting art ready for his first Vertigo mini HEAVY LIQUID.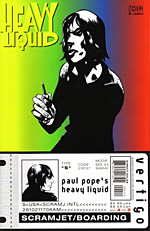 1999 - Pope collected his three ESCAPO stories into one book. By October '99, Pope had hit the mainstream with HEAVY LIQUID. A move away from the surrealism of THB's Mars, as well as Pope's usual black and white art, it instead featured distinctive purple and red hues and told the story of former cop 'S', an addict of a mystery substance called 'Heavy Liquid', hired to find the only artist capable of sculpting it.
By the end of the year, with HEAVY LIQUID finished, Pope returned to THB proper, with THB: MARS' MIGHTIEST MEK, which, even at 64 pages, was more of an introduction to THB, and a promise of the continuation (and even conclusion) to the storyline.
RECENT DAYS
Since 2000 Pope has delved into more mainstream work, contributing short stories and pin-ups to a variety of comics such as WEIRD WAR TALES, BATMAN, THE DREAMING, TRANSMETROPOLITAN, TANGLED WEB #15 and issue #5 of the Milligan/Allred relaunch of X-FORCE; X-STATIX.
During his forays into superheroes, Pope also returned to THB, with THB 6a, b, c and d, continuing HR's story, ending on a cliffhanger, alongside a few back-up stories. Each issue put most other self-published, even corporate published, comics to shame, with the number of pages and the sheer volume of work contained in each issue.
In late 2001 Pope co- founded Comix Decode, a series of readings and discussions with contemporary cartoonists, along with Jessica Abel, Matt Madden and Calvin Reid. Along with the readings by these four, other notable creators such as David Mazzucchelli, Charles Burns and Farel Darymple have contributed. HEAVY LIQUID was collected into trade paperback form, making Publisher's Weekly list of the Top 100 Books Of 2001, while Pope himself was ranked #11 in Gear's annual TOP 100 list of the most exciting people, places, and things on the planet, calling him, "One of the most consistently inventive comics artists of his generation."
In the last year, Pope has completed his follow-up to HEAVY LIQUID, the five issue miniseries 100%, a sci-fi romance set in the same futuristic New York, and like HEAVY LIQUID, focusing on the characters rather than the allegory and philosophy that fuelled his much earlier work. Pope is also gearing up to relaunch THB, finishing the story that he started nine years ago with a design overhaul, returning the book to tabloid format, which should please fans of the Jim Morrison of comics.
NINTH ART RECOMMENDS
FURTHER READING:

Online Paul Pope Art Gallery

Mars Import Creator Profile

The official Paul Pope website THE ONE TRICK RIP-OFF (1997): An easy-to-find introduction to Pope's work. A moody, atmospheric crime-driven love story, with a lengthy introduction by Pope, in which he imparts some good advice and the history of the story. Just don't let the garish cover throw you off.
HEAVY LIQUID (2001): Probably Pope's most easily accessible work, a fast-paced, sci-fi noir story about art and love and drugs and alienation, featuring some of the most beautiful minimalist colouring ever seen in a comic.
POPE ON COMICS
"In the larger scheme of things comics are insignificant, but it matters to me and it matters to someone else." 1996, Giant THB Parade.
"The art form of comics itself, like all others, is elastic, open-ended, and expansive. The comics medium has the power to contain and express all human thought, feeling, and experience. As long as there are artists to create, this one, true rule remains indestructible." From his essay Comics Destroyer.

This article is Ideological Freeware. The author grants permission for its reproduction and redistribution by private individuals on condition that the author and source of the article are clearly shown, no charge is made, and the whole article is reproduced intact, including this notice.