From BATMAN to THE BOGIE MAN, John Wagner's had a varied career, but he'll always be best known for his role in creating one of comics' most iconic characters. Ninth Art profiles the daddy of Dredd, John Wagner.
23 December 2002
---
EARLY DAYS
Arguably Britain's most influential comics creator of the last twenty-five years, Wagner was actually born in Pennsylvania in 1949 - his family having moved to Scotland when he was just 13. After leaving school he worked for a short time at a printing firm - a "nowhere job" with a college day release - before eventually taking a job as an editorial assistant at DC Thomson (publishers of THE BEANO and THE DANDY) in Dundee.
It was here that Wagner first made the acquaintance of Pat Mills and Alan Grant, two men who would figure prominently in his later career. At DC Thomson, Wagner worked mainly on girls' comics, rising to the lofty heights of chief sub-editor on ROMEO, until eventually he and Mills decided to go freelance, scripting short strips for IPC humour titles such as COR! and WHIZZER AND CHIPS.
This led to Mills being hired by IPC to create a World War II comic to rival DC Thomson's WARLORD - the result being the legendary BATTLE, for which Wagner and Mills originated almost all of the first run strips. Wagner went on to edit the ill-fated VALIANT for a short time, before going freelance again - just in time to contribute to Mills' latest venture, the weekly SF adventure comic 2000AD.
LANDMARKS
1976-1977 - Perhaps Wagner's finest work on BATTLE, 'Darkie's Mob' was a WWII strip set in the jungles of Burma. Ten years later it would serve as the inspiration for Peter Milligan and Brett Ewins' BAD COMPANY. 'Darkie's Mob' introduced the character of Captain Joe Darkie, a renegade British Officer (or was he?) who waged a vicious guerrilla war against the Japanese behind enemy lines with a rag-tag squad of deserters and ex-POWs. The strip bore all the hallmarks of Wagner's characteristic style - black humour, gritty cynicism and excessive violence. The strip concluded abruptly with the deaths of Darkie and most of the cast.
1977-1978 - A forgettable SF/espionage story modelled on THE SIX BILLION DOLLAR MAN, 'M.A.C.H. 1' is significant as it was Wagner's first strip for the newly launched 2000AD, appearing on the front cover of the very first 'prog'.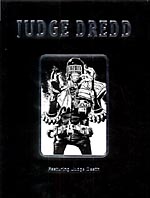 1977-PRESENT - Created by Wagner and artist Carlos Ezquerra (although the name was coined by Mills, who also scripted several early issues, including some of the classic 'Cursed Earth' arc), Judge Dredd is easily the most famous of Wagner's creations, and indeed, the most famous British comics character since Dan Dare. The futuristic fascist lawman debuted in issue #2 of 2000AD and has appeared in every issue since. With a few exceptions, Wagner scripted almost all of Dredd's stories during the first ten years of the strip's existence, either by himself or in partnership with Alan Grant.
Grant was Wagner's writing partner for most of the eighties, until the partnership dissolved around the same time that the long running 'Oz' storyline came to an end. The two alternated scripting chores for a time (with Wagner handling the lion's share of the work), and then in #711 a third writer was added to the DREDD team - Garth Ennis. Wagner took a two year hiatus from the character in 1992 following the epic 'Judgement Day' (co-written by Ennis) but returned in 1994 and has written the character intermittently ever since.
Wagner also created STRONTIUM DOG, which began life in 2000AD's sister title, the ill-fated STARLORD, but crossed over to 2000AD when the two titles merged. With art by Carlos Ezquerra, STRONTIUM DOG followed the exploits of Johnny Alpha, a mutant freedom fighter pressed into the role of intergalactic bounty hunter to avoid execution for crimes committed on Earth. Although Alpha was famously killed off in 2000AD #687 in a story written by Alan Grant, Wagner returned to the character in #1174 with a series of 'flashback' stories.
1987-1988 - Wagner and Grant's first major work for DC Comics was a 12 issue SF mini series called OUTCASTS, drawn by Cam Kennedy. Essentially the flip side of JUDGE DREDD, OUTCASTS dealt with the activities of street-level criminals in a futuristic society.
1988-1989 - DETECTIVE COMICS #583 saw Wagner and Grant's first work on BATMAN. Their run was notorious for their absurd portrayal of a homicidal ecstasy user in #594. Wagner left the title just over a year later, returning to BATMAN with 1991's JUDGEMENT IN GOTHAM crossover with JUDGE DREDD. Grant, however, remained as the book's regular writer and was involved in the BATMAN family of titles for much of the next decade.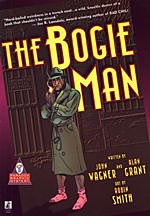 1989-1990 - THE BOGIE MAN was originally pitched to DC as a pre-Vertigo mature reader comic during the mid-eighties. The character of Francis Forbes Clunie - a mental patient who thinks he's Humphrey Bogart - eventually saw the light of day as a four issue mini-series from Glasgow's own Fat Man Press, with art by Robin Smith. It subsequently became (and still remains) the UK's best-selling indie comic book. THE BOGIE MAN remains a personal favourite of Wagner's, as it featured many locations and characters from his childhood stomping grounds.
1990-1991 - The JUDGE DREDD MEGAZINE was launched, providing a sister title to 2000AD concentrating on Dredd and his world. Wagner's first strip for the newly launched title, 'America', saw Wagner re-united with 'Chopper' artist Colin MacNeil, and despite the fact that even Alan Grant describes it as the 'definitive' Judge Dredd strip, Dredd himself only puts in a few token appearances. The story instead focuses on two childhood friends growing up in Mega-City One, and the unrequited love one has for the other. The lovestruck Benny grows up to become a vid-star comedian of note, while the object of his desire, Amy - short for America - becomes a political activist, and eventually, a terrorist.
The first creator-owned strip to appear in the JUDGE DREDD MEGAZINE was Wagner's AL'S BABY - the blackly humorous tale of Al Bestardi, a mob hitman forced into carrying his wife's child, only to have his pregnancy interrupted by the sudden outbreak of gang war between competing Mafia families. JUDGE DREDD co-creator Carlos Ezquerra illustrated the strip.
Meanwhile, THE LAST AMERICAN appeared out of Marvel's mature reader's Epic line. Wagner and Grant pitched this post-apocalyptic tale about the last living American in a world decimated by nuclear war to Archie Goodwin, who published it as a four issue series with art by veteran 2000AD artist Mike McMahon. As well as being a great story, THE LAST AMERICAN is notable as the book Wagner claims "broke" his writing partnership with Grant.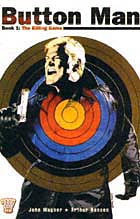 1992 - BUTTON MAN, illustrated by Arthur Ransom, was a jarring change of pace for the traditionally SF-oriented 2000AD: a contemporary action thriller in which former professional mercenary Harry Exton agrees to participate in 'the Game' - a high risk, high reward 'competition' in which millionaires pit hired killers against each other and bet on the outcome. Significantly, BUTTON MAN was also the first creator-owned strip to run in 2000AD. Harry Exton has since returned in two sequels to the original story, the most recent of which ran in early 2001.
1995 - In 1995, Wagner worked on Dark Horse's licensed film properties for the first time, scripting both the ALIENS: BERSERKER mini-series and the BOBA FETT one-shot 'Bounty on Bar-Kooda'. Wagner has continued to work on these and other properties since, scripting the SHADOWS OF THE EMPIRE mini-series, several BOBA FETT mini-series and the XENA series.
1997-1998 - Part of Paradox Press's Mystery Thriller line of pocket-sized graphic novels, A HISTORY OF VIOLENCE was an original crime thriller written by Wagner and illustrated by DEADWORLD artist Vince Locke. Like much of the Mystery Thriller line, A HISTORY OF VIOLENCE was received positively by critics, but failed to make much of an impression in terms of sales. Paradox Press also reprinted THE BOGIE MAN the following year, but the line folded shortly after.
RECENT DAYS
Wagner has continued to work on JUDGE DREDD and STRONTIUM DOG for 2000AD (earlier this year Wagner scripted Dredd's 25th Anniversary story with co-creator Ezquerra), as well as various other projects for 'The Galaxy's Greatest Comic'. 2000AD #2003 (published on 18th December 2002) features the first instalment of the JUDGE DREDD/ALIENS crossover which Wagner has co-written with Andy Diggle.
NINTH ART RECOMMENDS
A HISTORY OF VIOLENCE (1997): A gritty crime thriller dealing with themes of vengeance and redemption. Small town family man and diner owner Tom McKenna becomes a minor celebrity when he ruthlessly guns down a pair of wanted killers that attempt to rob him, only to find that the unwanted media exposure attracts the attention of some people with a score they've been waiting to settle with him for over twenty years. Wagner's first (and so far only) foray into original graphic novels.
FURTHER READING:

---

THE DREDD PHENOMENON by John Newsinger, published by Libertarian Education.

I Invented Judge Dredd, a BBCi News interview from February 2002.

THE BOGIE MAN (1998): Reprinting both the original mini series and the Robin Smith version of 'Chinatoon', the farcical THE BOGIE MAN is one of Wagner's personal favourite works. The Paradox Mystery Thriller edition should have been the start of a new lease of life for Bogie, but the line folded and a proposed sequel, 'Return to Casablanca', was never published.

JUDGE DREDD FEATURING JUDGE DEATH (2001): This volume launched Titan's luxury hardcover reprints, and while Brian Bolland's sublime art is certainly a major selling point, it also serves as an excellent introduction to Wagner's early work on JUDGE DREDD, introducing his most memorable opponents - the ghoulish Judge Death and his nightmarish undead colleagues, the Dark Judges.

BUTTON MAN VOL.1 (2002): Wagner and Ransom's bleak, violent action thriller set new standards when it first appeared in 2000AD, and for good reason. Ransom's photo-realistic art was perfectly suited to Wagner's cinematic sensibilities, and the cold, brutal tone of the strip was in stark contrast to the tongue in cheek approach to violence common to JUDGE DREDD.

WAGNER ON WAGNER

"Occasionally we'd get letters from children who seemed to be agreeing with [Dredd's] hard-right stance, so we made the strip more political to bring out the fact that we didn't agree with Dredd." ['I Invented Judge Dredd', BBCi News, February 2002]

"You can suspend your disbelief only so far, and I'm not willing to travel those extra steps to come to terms with superheroes. An isolated superpower, maybe, but not a whole genre devoted to it. Many won't agree with me, considering the industry grew big because of them, but I think they've been the ruination of American comics." [Ibid.]

This article is Ideological Freeware. The author grants permission for its reproduction and redistribution by private individuals on condition that the author and source of the article are clearly shown, no charge is made, and the whole article is reproduced intact, including this notice.