John Wagner is best known for his work on Judge Dredd, so it's no surprise that his creator-owned BUTTON MAN is another bleakly violent work with a cold-blooded protagonist. But, as Ninth Art discovers, it's also one of Wagner's best.
12 December 2003
---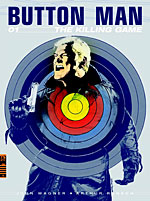 Writer: John Wagner
Artist: Arthur Ranson
Price: £17.99
Publisher: Rebellion
ISBN: 1-904265-05-7
In his introduction to this recently released collected edition of BUTTON MAN, creator John Wagner comments that "there are no good guys in this book". No shit, John. The protagonist of BUTTON MAN - Harry Exton - is without a doubt the most amoral, cold-blooded character in comics. His supporting cast is an assortment of criminal psychopaths, unconscionable killers and bloodthirsty necrophiles; they spend the book's 88 pages killing each other and anyone who gets in their way; and generally speaking, they enjoy every minute of it.
More than ten years after it was first published and it's this gleeful (and total) rejection of the traditional two-tone comic book morality that I remember most fondly about BUTTON MAN; it's also a big part of why it's one of the most exciting, visceral thrillers ever to be published in the comics medium.
The creation of Brit-comic stalwarts John Wagner and Arthur Ranson, BUTTON MAN was originally conceived for the ultimately ill-fated anthology title TOXIC, but eventually found a home at the perennial Brit-weekly 2000AD, becoming, in fact, the galaxy's greatest comic's first fully creator-owned strip. Published in twelve instalments in 1992, BUTTON MAN won acclaim, adulation and awards all over the place; a collected edition appeared from Kitchen Sink Press in 1994, and two sequels to the original series have since run in 2000AD, most recently in 2001.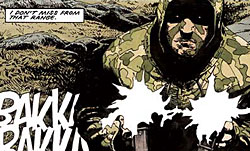 BUTTON MAN tells the story of Harry Exton, an ex-mercenary living in rural England, inducted by a former associate into 'the Game' - a modern day gladiatorial contest in which hired killers - button men - are pitted against each other at the behest of the rich and powerful, who place huge bets on the outcome.
Harry's 'matches' take him from a lonely Welsh hillside to a fogbound street in London's east end, and he quickly acquires a reputation as one of the Game's most efficient and ruthless players. When Harry decides to try and quit, however, he discovers the only pension plan his employers have to offer him is of the 9mm variety. Cue one final contest, and for Harry, a desperate, bloody battle for survival.
Central to the strip's appeal is the character of Exton himself; a truly hardboiled British anti-hero in a similar vein to Ted Lewis's Jack Carter - hard as nails and free from any and all moral constraints, and yet possessed of a fiercely independent streak and a steely, inflexible resolve. Harry is refreshingly tough to empathise with, and Wagner makes no concessions in his portrayal of the character, who is, after all, a hardened killer who quite happily murders people for money. Brave, tough and resourceful he may be, but he's definitely not someone you're expected to admire.
Appropriately, the plot is as unsentimental and icily cold as its protagonist, driven by a typically lean and spartan Wagner script that's bleak, uncompromising, and in stark contrast to much of Wagner's 2000AD work, almost completely devoid of humour. BUTTON MAN was clearly intended as an antidote to the watered down antiheroes, pantomime villains and cartoonish violence characteristic of so many Anglophone comic books of the time, and Wagner remains faithful to that vision to the end; concluding the story with a typically satisfying and fittingly grim resolution.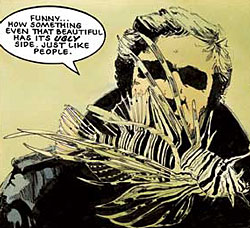 The most striking thing about BUTTON MAN however, is Arthur Ranson's beautifully detailed photo-realistic art. In 1992, Ranson was a relatively recent recruit to 2000AD's stable of artists, having spent the formative years of his career drawing strips for LOOK-IN - the now long defunct children's TV weekly. Despite this, he brought a mature, refined and experienced sensibility to his debut work, and by the time he started BUTTON MAN, he was already a firmly established fan favourite.
Obsessive about detail and always happy to experiment, Ranson's intricate line work, gorgeous inks and meticulous layouts perfectly suit the strip's gritty, realistic tone, as well as Wagner's propensity for cinematic action sequences. Wagner and Ranson's collaboration on BUTTON MAN marks one of those rare synergies of writer, artist and material, and as such makes it the high point of both men's not inconsiderable careers.
Reading the collected edition, it's obvious BUTTON MAN was always intended as a graphic novel; whilst this meant it occasionally read awkwardly in episodic format, it obviously pays off here, giving the book a sense of flow that's often absent from Wagner's other serialised works. This, along with Ranson's polished artwork, the adult tone of the story and the hugely impressive production standards, gives the book a very 'European' feel, strongly reminiscent of Humanoids' high quality US hardcover reprints, which is of course no bad thing.
A cold, hard, clinical thriller with an icy, black heart and mean intelligence, BUTTON MAN is quite simply one of the best strips to come out of British comics, by two of its foremost creators, and it's now finally available in the kind of format it deserves. Go out now and buy one for everyone you know, and be warned, because the sequel is even better.

This article is Ideological Freeware. The author grants permission for its reproduction and redistribution by private individuals on condition that the author and source of the article are clearly shown, no charge is made, and the whole article is reproduced intact, including this notice.